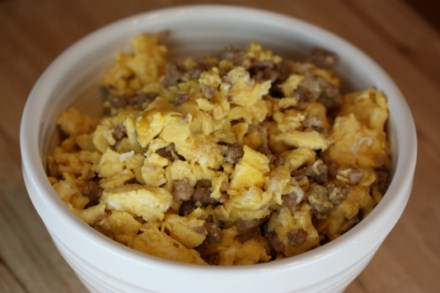 I have mentioned several times in my menu plans that I often make eggs and sausage ahead to use for breakfasts throughout the week, but I have never done a whole post on how I make them.
I decided that since eggs and sausage is my favorite make ahead and freezer friendly breakfast idea, it was time that they had a post of their own. This is so easy and a very kid friendly breakfast.
This is one of those dishes that is perfect to make up in a large batch to use for several days, or to freeze for use at a later time, because really if I am going to scramble eggs it is not hard to scramble a few extra. And if I am going to cook sausage it is not really any extra work to cook a pound or two more.
My husband loves to eat these on tortillas with a little cheese and salsa. My kids like to just heat them up and eat them plain. I enjoy them both ways.
One of the questions that I am often asked is about how well eggs freeze. And my answer is that for this it works fine.
It might change the texture some, but not enough to bother us, especially if you use it for a breakfast burrito filling. Once you cover this in salsa and cheese and wrap it in a tortilla, you can't tell they have been frozen at all.
I would love to hear what your favorite make ahead breakfast idea is?
Eggs and Sausage
18 eggs
1 pound ground breakfast sausage
salt and pepper to taste
In a large pan, I use my large electric skillet,  brown and cook sausage until done. Remove sausage from pan and drain grease. Reserve about 1 tablespoon of grease in pan.
Scramble eggs in the same pan as you browned the sausage in. If you do not have a large enough pan you may need to scramble the eggs in two or three batches.
Once eggs are cooked, mix with cooked sausage and salt and pepper to taste.
Cool completely and freeze in small container or zip top storage bags. Or store in a large bowl in the refrigerator and use within a few days.
I defrost overnight in the refrigerator and reheat in the microwave as needed for breakfast.