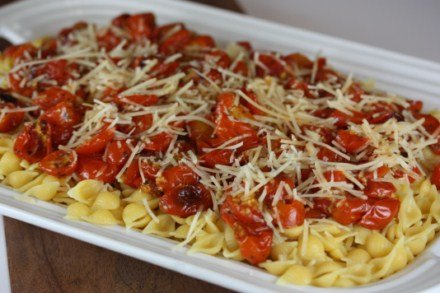 This recipe is one of those meals that proves you can make, and serve your family, a healthy homemade meal with very little time or work.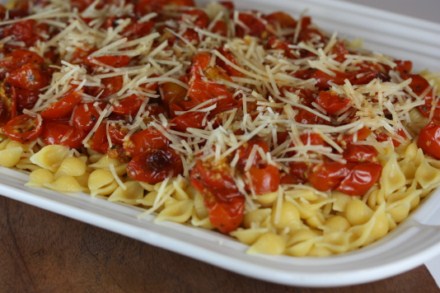 This roasted tomatoes and pasta is simple and only contains a few ingredients, but by roasting the tomatoes you add a ton of flavor without much work.
Food can be simple and still be delicious by simply bringing out the flavor in the ingredients that you use.
I have made this several times already for my family this summer and everyone loves it.
Roasted Tomatoes and Pasta
4 cups cherry tomatoes, cut in half
4 cloves garlic, minced
3 tablespoons oil
1/2 teaspoon salt
1/4 teaspoon ground red pepper
1 lb pasta
1/2 cup Parmesan cheese, the real stuff not the stuff in the green can
Preheat oven to 400 degrees.
Spread tomatoes out on a cookie sheet or rimmed baking pan.
Drizzle oil over top and sprinkle with garlic, salt, and red pepper. Stir slightly.
Bake for 25 minutes.
While tomatoes are baking cook pasta according to package directions. Drain pasta and return pasta to the pot.
Serve pasta with tomatoes on top and then sprinkle with Parmesan cheese. Or you can mix the tomatoes and pasta together and sprinkle with parmesan cheese.