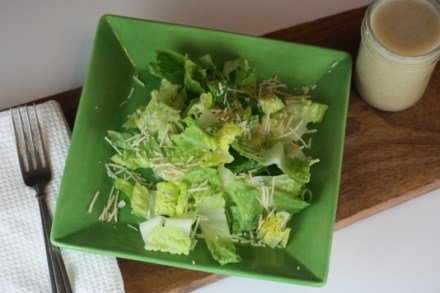 After taking a few weeks off from my Cooking Through My Collection series I finally have a new recipe for you today.
Today's recipe comes from Emeril 20-40-60: Fresh Food Fast
cookbook. I have several of Emeril's cookbooks, but Emeril 20-40-60: Fresh Food Fast

Cookbook is my favorite. It contains practical everyday type recipes using mainly everyday ingredients.
This cookbook is one that I love having in my collection. The recipes are set up by the amount of time they take to make, so the whole cookbook contains recipes that can be made in under one hour. And we all love quick and easy recipes.
Every recipe that I have tried from this cookbook has turned out great and you cannot say that about very many cookbooks.
Today's recipe is definitely a quick and easy recipe. It is for Caesar Salad Dressing. I did make a few changes to today's recipe though.
I left out the egg. I am a bit leery of eating raw from the store eggs. Farm fresh eggs are a different story, but eggs from the store raw, no thanks. I would have used egg beaters or a pasteurized product like that, but I did not have any on hand, so I just left it out.
And really we thought it was fine without it. I think it might have had a creamier thicker texture with the eggs, but it worked without them.
Being a caesar salad this recipe called for canned anchovies. However when it comes to anchovies I have a secret. I use anchovy paste
. I buy it from a more gourmet type grocery store in my area, but you can also find it online. I find it much easier to use than canned anchovies.
Have any of you ever tried the anchovy paste before?
This is one of those salads that you can really change up. Add croutons and chicken and you have and easy main dish meal. Seafood or salmon would be delicious added to this, but it is also good served just as a side salad. Any way you make this though it is really good!
Yield: 10 servings
Emeril's Caesar Salad Dressing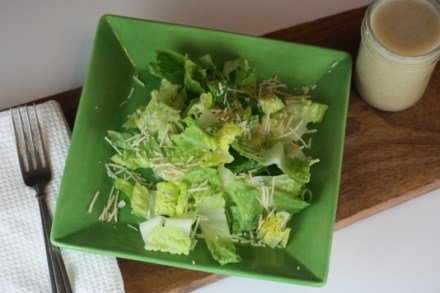 Creamy, easy to make, and homemade dressing.
Ingredients
1 egg ( I left it out)
3 canned anchovy fillets ( I used about 1 tablespoon of anchovy paste)
2 cloves garlic, minced
2 tablespoons lemon juice
1 1/2 teaspoon Dijon or whole grain mustard
1 cup olive oil
1/4 cup grated Parmesan cheese
1/8 teaspoon Tabasco sauce
1/4 teaspoon Worcestershire sauce
1 teaspoon salt
1 teaspoon black pepper
Instructions
In a blender or food processor combine egg (if using), anchovies, garlic, lemon juice, and mustard.
Blend and slowly drizzle in oil until combined and thick.
Add in cheese, Worcestershire sauce, Tabasco, salt, and pepper, and pulse a few times.
Serve over salad and refrigerate any leftovers.
Nutrition Information:
Yield:
10
Serving Size:
1
Amount Per Serving:
Calories:

214
Total Fat:

23g
Saturated Fat:

4g
Trans Fat:

0g
Unsaturated Fat:

19g
Cholesterol:

22mg
Sodium:

338mg
Carbohydrates:

1g
Fiber:

0g
Sugar:

0g
Protein:

2g
Nutritional values are approximate and aren't always accurate.