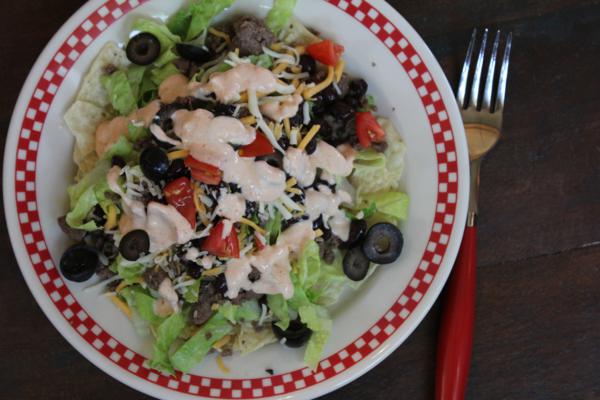 Taco salad is one of our favorite easy summer dinners. It does not require the oven, everyone loves it, and it is quick and easy to make. It is also a nice change from your basic tacos.
This summer I decided to change it up a little and make an enchilada salad. Enchilada salad is basically a taco salad with an enchilada dressing.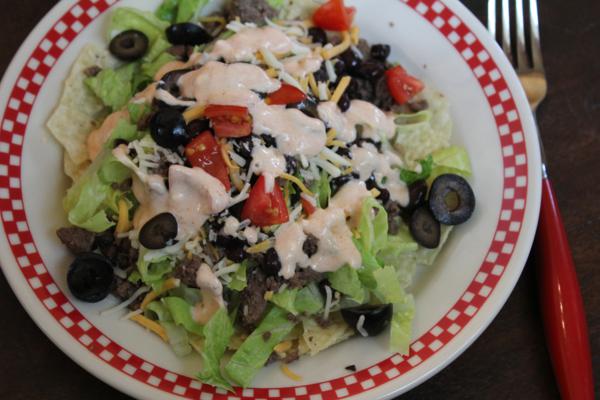 I loved this salad. It was the same basic flavors of a taco salad, but with an enchilada twist. The dressing does make a lot. It served us for several meals of this salad. We also used it on regular salad and on wraps.
I did not give exact measurements on the ingredients because you can really change it up and vary it for how you like it.
The olives are definitely optional, but if you are like my family and enjoy olives on Mexican food they are delicious on this salad!
Enchilada Salad
A simple salad that is easy to make and perfect for anytime of year.
Ingredients
¾ cup sour cream
1- 10 ounce can enchilada sauce
¼ teaspoon salt
shredded or chopped lettuce
sliced olives
cooked ground beef or cooked shredded chicken
shredded cheese
tomatoes, chopped
canned black beans, rinsed and drained
tortilla chips
Instructions
In a bowl mix together sour cream, enchilada sauce, and salt. Stir well and set aside.
In a large bowl or in individual serving sizes layer lettuce, cooked meat, and other salad ingredients.
Drizzle with dressing and enjoy!