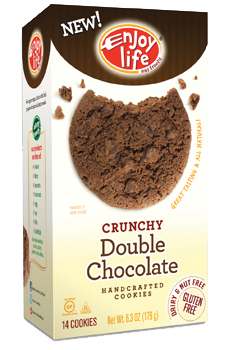 Enjoy Life recently sent me a few of their new varieties of cookies to try and we really enjoyed them.
They sent me the Double chocolate Crunchy Cookie,
the Chocolate Chip Crunchy Cookie
, the Sugar Crunchy Cookie,
and the Vanilla Honey Graham Crunchy Cookie
and we loved them all.
But I will say that the Crunchy Double Chocolate Cookie was my favorite.
Now, these are a crispy crunchy cookie. There is nothing soft about them, but that is not a bad thing, we thought they were really good.
What I love about all the Enjoy Life products is that they are free of the top eight allergens, which means that everyone in my family can enjoy them.
I think these cookies would be great for traveling. Traveling with food allergies is always difficult and having products like this that are easy to take with you makes it so much easier. These would also work well for lunches or to keep on hand for kids to take somewhere when they need a treat or cookie to take along that they can have.
Disclaimer: I was sent sample product, but was not compensated for my time. And as always my thoughts and opinions are my own.