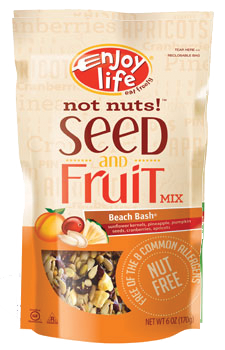 My family was recently sent a few bags of Enjoy Life's Fruit and Seed Mix to try.
Now, I will admit that trail mix type food is not something I really miss. There are times like when traveling that it would be nice to have, but it was not really something that I craved.
However, when my daughter with the peanut, tree nut allergy opened the box from Enjoy Life and realized that there was a nut and peanut free type trail mix available that she could eat she was thrilled.
Really, she was more than thrilled. She was amazed that someone actually made a nut free type trail mix and she was so excited to find that it was available. So, because she was so excited about this trail mix, I was very excited.
Now, I don't mean that it was not a good product, it was. We loved the taste and flavor of the trail mix, but there is something about the joy in a child that deals with food allergies, when they realize that there is a version of something they miss, that is safe to eat.
The fun of enjoying them eat that food again is something that is hard to describe.
And we enjoyed this so much, I recently ordered some through Vitacost to keep on hand. It makes for a quick and healthy snack to keep on hand that my whole family can enjoy and for that fact we love it!
Disclaimer: I was sent some free product to try, but I was not compensated for my time in writing this post. And as always my thoughts and opinions are my own.