Today we have another guest post from my sister Evie. I am so glad that Evie has agreed to share some of her favorite recipes with us. She does not have the issues with gluten and nuts that some in my family do, so I really appreciate her sharing her gluten and nut filled recipes with us. Next month she will be sharing a peanut butter dessert that looks so good. But for now she is sharing one of her new favorite bread recipes. Thanks Evie! (And I am a little jealous that you live so close to Bob's Red Mill.)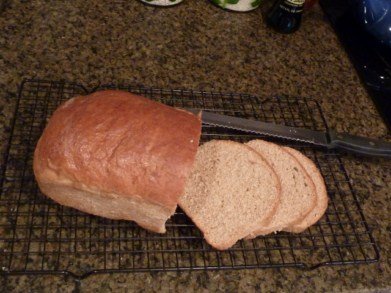 I love Bob's Red Mill and use a variety of their products, especially their flours. The products are sold at grocery stores nationwide, but there is only one factory store. The Bob's Red Mill Factory Store happens to be located less than an hour from my house. I love to go there once every few months and stock up on my essential Bob products.
On my last trip, I bought some oat flour (rather than making it, like I normally do). I originally planned to use the oat flour for a hot cereal recipe I've been working on. However, my husband read the back of the package and saw a recipe for Oat-Y-Licious Wheat Bread. He gave me his "pretty please" look and asked if I'd make it for him.
Since he really wanted this bread, I figured it wouldn't hurt to give this recipe a try. The oat, whole wheat, and white flour blend sounded like a good combination. I also liked this bread recipe because it doesn't contain any eggs or milk.
I tweaked the recipe a little and it turned out great. It smelled so good right out of the oven I didn't even get a picture before my husband cut into the loaf!
After making this bread, I found that it had a lighter, more airy texture than a lot of whole wheat loaves I've made. The faint oat flavor is wonderful and not overly 'oaty.'
Oat flour is also extremely easy to make, if you don't want to buy it. All you have to do is put old fashioned oats in a blender or food processor and process until oats look like flour. For me, I have found that this works better in my food processor, than my blender. I'm sure that is all depends on the type of blender and/or food processor you have. To make oat flour: blend oats well, stir them and blend some more. Repeat as needed until oats are ground into flour. In my food processor, it takes 4-5 minutes of blending to get the right texture.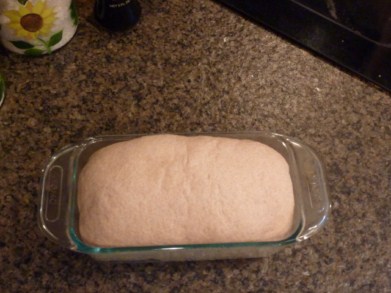 Yield: 12 slices
Evie's Oat Bread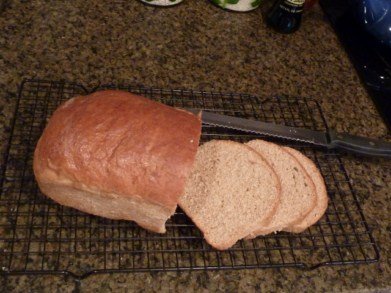 My sister's oat bread is an easy to make homemade bread.
Prep Time
1 hour
30 minutes
Total Time
2 hours
15 minutes
Ingredients
2 3/4 teaspoon yeast
1 1/4 cup warm water
2 tablespoons butter, melted
2 tablespoons sugar
1/2 teaspoon salt
1 1/2 cups whole wheat flour
1 to 1 1/2 cups white flour
1/2 cup oat flour
Instructions
In a small bowl, combine water and yeast. Let stand for 5 minutes.
Add melted butter and sugar. Mix well.
In a separate bowl, combine salt, whole wheat flour, 1 cup white flour, and oat flour.
Add yeast mixture to flour. Stir until combined. Add additional flour as needed until dough is no longer sticky.
Place dough on a flat surface and knead until elastic, 6-8 minutes.
Place in a greased bowl and let rise for one hour, or until doubled.
Punch down. Let dough rest for 5 minutes.
Form dough into a loaf and place in a greased loaf pan.
Cover and let rise 1 hour, or until doubled.
Bake at 350 for 20 minutes. Cover with foil, and continue to back 20-25 minutes.
Let sit 10 minutes before removing from pan.
Nutrition Information:
Yield:
12
Serving Size:
1
Amount Per Serving:
Calories:

153
Total Fat:

3g
Saturated Fat:

1g
Trans Fat:

0g
Unsaturated Fat:

1g
Cholesterol:

5mg
Sodium:

106mg
Carbohydrates:

28g
Fiber:

3g
Sugar:

2g
Protein:

5g
Nutritional values are approximate and aren't always accurate.