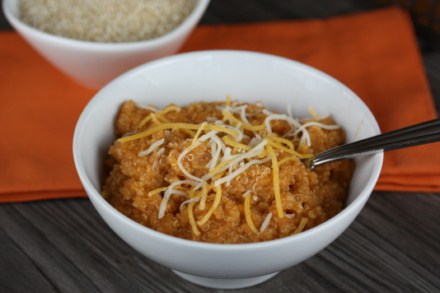 I debated which site to post this Mexican Style Quinoa on, but I finally decided that since quinoa is perfect for those on a gluten free diet, I would post it here in my allergy section.
Quinoa is so healthy and I have tried to use it more since going gluten free. My family though has had a little trouble adjusting to it. They have issues with the texture and taste and I have had to get creative when using it, but they are slowly beginning to like it.
One of the ways they now enjoy quinoa is in this Mexican Style Quinoa. All I did was substitute quinoa in my Mexican Rice recipe. It was that easy and it turned out really well. And it is healthier than making it with white rice.
I hope you enjoy it as much as we do.
Mexican Style Quinoa
3 tablespoons oil
1 cup quinoa (Rinse the quinoa in a little water and drain water off before cooking.)
1/2 teaspoon garlic powder
1/2 teaspoon cumin
1/4 teaspoon chili powder
1/2 cup tomato sauce
2 cups chicken broth
1/2 cup shredded cheddar cheese (optional, but good)
Heat oil in a pan over medium heat. Add quinoa and stir until slightly browned and golden.
Add seasoning and stir for 30 seconds.
Add broth and tomato sauce.
Bring to a boil and then reduce heat to low. Cover and cook for about 20 minutes or until most of the liquid is absorbed.
Remove from heat and stir. Cover and let sit 10-15 minutes. Stir in cheese if using.
Serve and enjoy!