Need a gluten free or slightly healthier muffin recipe? Flourless Banana Muffins are so good that you won't miss the gluten or the flour.
These Flourless Banana Muffins are my new favorite muffins. I love these.
Since having diverticulitis last spring I have had trouble eating grains. I can eat some, but I have to watch the amount of them that I eat.
I love baking and I love desserts, so at times eating low grain has been a challenge. Not so much of a challenge as much as a I miss desserts, muffins, and other baked good.
Like I said I am not eating 100% grain free, I am just watching the amount I eat. I usually eat grains at one meal a day and that is all. I try to stay away from them the rest of the time.
I love desserts and baked goods though, so I have tried to come up with some things to keep on hand when I want a muffin or cookie but don't want the extra grains.
A lot of grain free or low grain people use almond flour, but because of my daughter's nut allergy I can not do that.
Over the last few years I have tried using coconut flour many times, but have found that my family doesn't really like it. The texture and taste are just too off from what we are used to eating. I have thrown away more coconut flour experiments than I care to admit…
I had pretty much given up on coconut flour until last spring when I had to start watching the amount of grains that I was eating. I really wanted to find some no grain or low grain baked goods, so I decided to try cooking with coconut flour again.
After doing some research I realized that a lot of people use coconut flour mixed with another grain free flour like tapioca flour or almond flour. Since I can't use almond flour, I decided tapioca flour would be a good option for me to experiment with.
It made sense that mixing coconut flour with another flour would work better than just the coconut flour.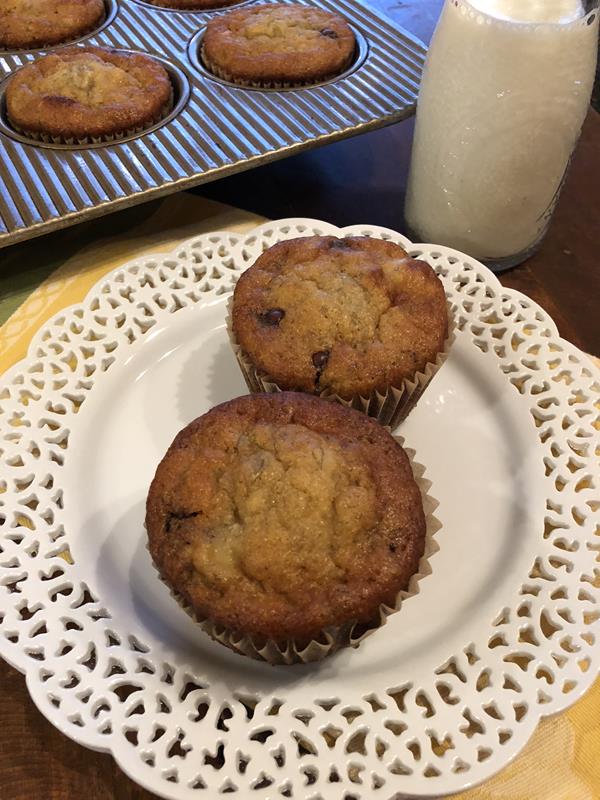 What I Did To Make Flourless Banana Muffins
After looking at all kinds of recipes and tips for using coconut flour, I combined a few ideas and recipes and came up with a version of a flourless banana muffing that my family enjoys.
Most of the coconut flour muffins are very similar. They have coconut flour, eggs, oil, and some sort of sugar. Some have a mix of coconut flour and another grain free flour, but they are all very similar.
Because of how the coconut flour works with other ingredients they all contain quite a few eggs. If you can't have eggs, this is probably not the recipe for you.
The texture is slightly different than a regular muffin because they are flourless. Coconut flour and tapioca flour give you a different texture than regular flour or gluten free flours do. They also contain more eggs than a regular muffin would, so that changes the texture as well.
However, they are still delicious.
My goal with these was to make a grain free muffin that I love. However, I think they would also work for a paleo or similar diet with a few changes.
And yes I know I called these flourless banana muffins and they have coconut flour and tapioca flour in them, but those aren't considered regular flours, so I still count them as flourless muffins.
Tips for making the best Flourless Banana Muffins
Use a good brand of coconut flour and tapioca flour. There are a lot of brands out there. Some are good and some are not. I have found that the end result can really vary depending on the brands you use. My favorite brand of both tapioca and coconut flour is Bob's Red Mill.
If you use dairy free chocolate chips or leave the chocolate chips out these are a dairy free grain free muffin.
Stir the batter by hand. A lot of other flourless muffin recipes have you use a mixer or even a blender. I found that I get the best results texture wise if I mix these by hand.
You can leave out the chocolate chips for a plain flourless banana muffin. If you are paleo, dairy free, or low sugar, use your favorite chocolate chip.
You can grease the muffin pan and I put that as an option in the directions, but I have found that I like them better when baked in a pan lined with muffin liners.
I use regular old vegetable or canola oil. I know not everyone agrees with my choice. 🙂 Coconut oil, butter, or another oil might work, but I have not tried it that way.
For a double chocolate flourless banana muffin you could also add in a few tablespoons of baking cocoa.
Yield: 12 muffins
Flourless Banana Muffins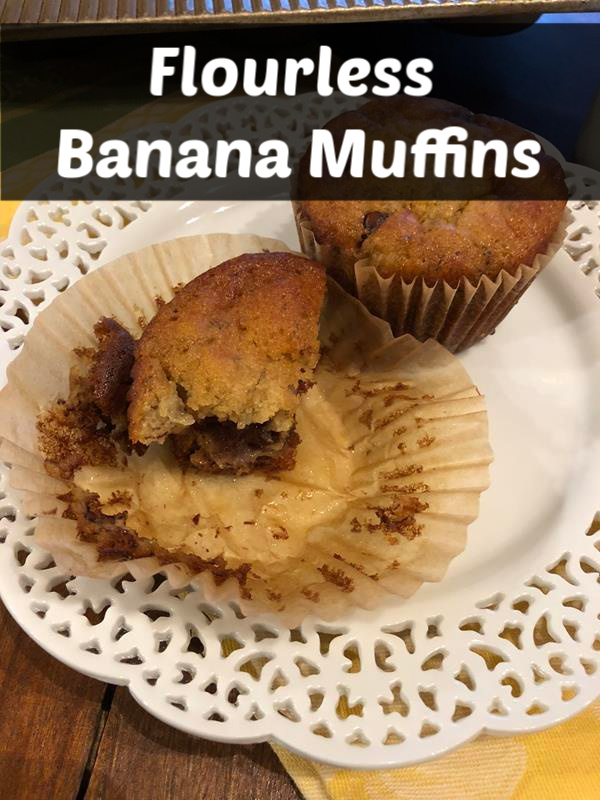 Flourless Banana Muffins are an easy grain free muffin.
Ingredients
3 ripe bananas
4 eggs
1 teaspoon vanilla extract
1/4 cup honey
1/2 cup oil
1/2 cup tapioca flour
1/2 cup coconut flour
1 teaspoon baking soda
1/2 teaspoon salt
1/2 cup chocolate chips
Instructions
Preheat oven to 350 degrees.
Grease a 12 cup muffin pan or use muffin liners. Set aside.
In a large mixing bowl mash bananas.
Stir in eggs, vanilla, honey, and oil. Stir to combine.
Stir in tapioca flour, coconut flour, baking soda, and salt. Stir until well combined.
Stir in chocolate chips.
Scoop batter into muffin cups filling each muffin cup 3/4 full.
Bake for 18-19 minutes or until muffins are set and toothpick inserted into the center comes out clean.
Let cool in pan for about 5 minutes then remove to rack to cool.
Refrigerate leftovers.
Notes
I have found that tapioca and coconut flour vary a lot by brand. My favorite brand and the brand I get the best results with is Bob's Red Mill.
For a chocolate version of these muffins stir about 3 tablespoons baking cocoa into the batter.