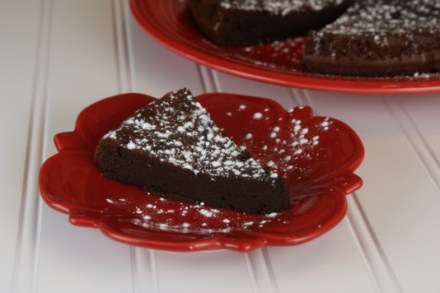 I know you all might be getting tired of chocolate recipes, but I have found that chocolate and gluten free go well together. Gluten free flours often have strong flavors that are hard to cover up, but chocolate also has a strong flavor. Strong flavors like chocolate work well in gluten free baking because they help mask the after taste that many gluten free flours have. So, I bake a lot with chocolate.
And the fact that I love chocolate might also have something to do with my large collection of chocolate recipes on this site.
This recipe today is chocolate, but it actually has no flour or gluten free flour in it. It is a great example of a regular recipe that just happens to be gluten free.
I copied this recipe out of a cookbook from the library a few months ago. I made it recently and we loved it. I cannot remember what cookbook it was and I wish I could. I would not only give credit to the author, but I would check out the cookbook again, so that I could find some more good recipes out of it.
This cake is so rich and delicious. It is good on its own, but it would also be good served with some fresh fruit. If you love chocolate this is a perfect cake to try.
Recipe: Flourless Chocolate Mousse Cake
Ingredients
4 eggs
pinch of salt
6 tablespoons butter
1 tablespoon oil
12 ounce of semisweet chocolate chips
powdered sugar for serving
parchment paper
Instructions
Preheat the oven to 350 degrees.
Using a mixer combing together the eggs and pinch of salt.
Mix until the eggs have tripled in volume and are very thick. This is an important step and takes about 5 minutes.
While the eggs are mixing, combine the oil, butter, and chocolate in a bowl. Melt in the microwave stirring every 30 seconds until the chocolate is melted. I do this at 50% power so that the chocolate does not get too hot.
Once the chocolate is melted and the eggs have mixed for about 5 minutes combine them together. Mix on low speed just until well combined.
Oil an 8 inch cake pan. Cut a piece of parchment paper the size of the bottom of the pan. Do not skip the parchment paper or the cake will stick.
Place the parchment paper in the pan and oil the paper.
Pour batter into pan and spread out evenly.
Bake for 18-20 minutes. The center of this will still be soft, but that is okay. This is a fudgy type cake.
Cool for about 15-30 minutes and invert pan to remove the cake.
Dust with powdered sugar and enjoy!
Preparation time: 15 minutes
Cooking time: 20 minutes
Number of servings (yield): 8