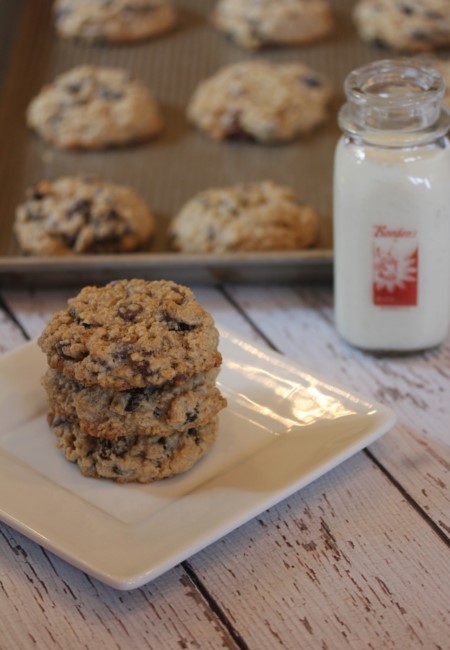 These chewy and delicious oatmeal cookies are a treat your family will love.
I love cookies. Any kind of cookies. They have always been my favorite dessert to make and to eat. It has been awhile since I shared a cookie recipe with you, so I am excited to have a new cookie recipe for you today.
Some oatmeal cookies are a basic cookie with a little oatmeal added. These are not that kind of cookie. These are a hearty thick and full of oatmeal cookie. These are great on their own for just a plain oatmeal cookie, but we love them with raisins or chocolate chips added. A combination of both is even better.
These cookies are flourless, which is great because if you use gluten free oats they are an easy gluten free dessert.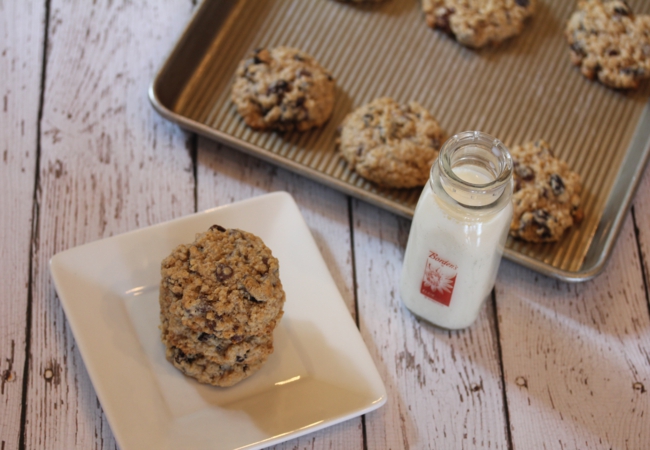 Flourless Oatmeal Cookies
4 1/2 cups quick cooking oats, divided ( I use gluten free oats)
2 tablespoons cornstarch
1 teaspoon ground cinnamon
1 teaspoon baking powder
1/2 teaspoon salt
1 cup butter, softened
3/4 cup sugar
1/2 cup light brown sugar
2 eggs
2 teaspoons vanilla
1 cup chocolate chips
1 cup raisins
Preheat oven to 350 degrees.
In a blender or food processor grind 2 cups of the oatmeal until fine.
In a bowl combine ground oats, remaining oatmeal, cornstarch, cinnamon, baking powder, and salt. Set aside.
In a large mixing bowl cream butter and sugars until light and fluffy.
Add eggs and vanilla. Beat until combined.
Gradually add oat mixture.
Sit in chocolate chips and raisins.
Drop by the spoonful onto cookie sheet. Bake 12-13 minutes or until edges are lightly browned.