Gluten-free pancakes without xanthan gum are possible. In fact, they are better than pancakes with xanthan gum.
Fluffy gluten-free pancakes without the gums are totally possible. And they are delicious.
Pancakes are one of my family's favorite gluten-free foods. You might be able to tell that by the number of gluten-free pancake recipes I have here on my site.
They are one of the first things I converted to gluten-free. And we eat them at least once a week. But pancakes have also been one of the things I have struggled to get just right gluten-free.
If you have read my site for a while you probably know that I am not a huge fan of pre-made gluten-free flour blends. I do use them some, but not a lot. My number one issue with pre-done blends has to do with the gums. Most blends contain gums already in them. But the number of gums that work in a muffin may not work in a cake or cookie. And what works for a waffle will not be the same as a gluten-free bread.
In my experience with gluten-free cooking gums are far from a one size fits all ingredient.
The issue with gums seems worse when it comes to foods like pancakes. Gums tend to really change the texture of pancakes. It makes them gummy for lack of a better word. It also tends to make them thick and sometimes more dense than a regular pancake would be.
All the gluten-free pancake recipes so far on my site have called for a small amount of xanthan gum and they are all good, but I have been experimenting recently with using no gums in my gluten-free pancakes. And you know what? It works fine. I actually think it works better. For the last two months or so I have totally been leaving the xanthan gum out of all my gluten-free pancakes and it works great.
In fact, my family likes them better. They are less gummy. They are more like a regular gluten-filled pancakes. And I have found that they cook faster without the gums. So gluten-free pancakes with no gums are a definite win at our house.
Now you can't take the gums out of all gluten-free recipes, but in pancakes, I think it works fine.
I have not gone back and updated all the gluten-free pancake recipes on my site, but I plan to update them without the gums soon. Feel free to leave out the gums in any of them to see what you think.
Today I am sharing my favorite basic gluten-free pancake recipe without the gums. This is the recipe we use almost every Saturday morning for our Saturday morning breakfast tradition.
I would love to hear your thoughts on gums. Do you think gluten-free pancakes need the gums or not?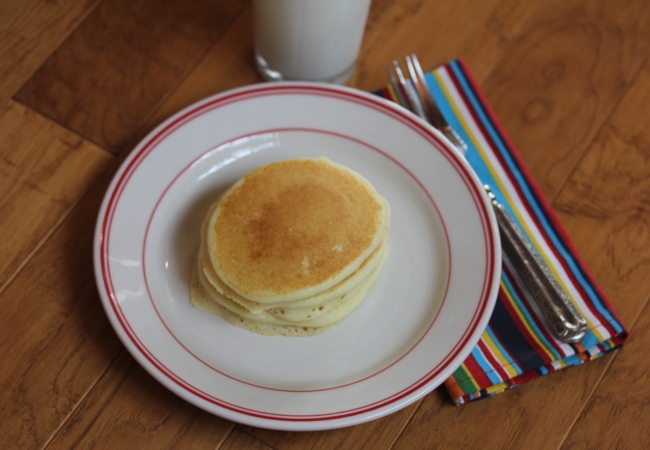 Yield: 6 servings
Fluffy Gluten Free Pancakes without Xanthan Gum
Fluffy gluten-free pancakes without xanthan gum. Yes, gluten-free pancakes can be light, fluffy, and delicious!
Ingredients
2 eggs
4 tablespoons of butter, melted
2 cups buttermilk
2 tablespoons sugar
3/4 cup brown rice flour
3/4 cup white rice flour
1/2 cup potato starch
1/3 cup tapioca starch
1/4 teaspoon baking soda
1 1/2 teaspoons baking powder
3/4 teaspoon salt
Instructions
Whisk together the eggs, butter, and buttermilk.
Whisk in the remaining ingredients and whisk just until combined. This batter will be a little lumpy.
Let batter sit for 3- 5 minutes.
Carefully scoop or ladle on to a hot griddle or skillet. Cook for 1-2 minutes on one side. Flip and cook on the other side until golden brown.
Serve and enjoy!
Nutrition Information:
Yield:
6
Serving Size:
1
Amount Per Serving:
Calories:

395
Total Fat:

11g
Saturated Fat:

6g
Trans Fat:

0g
Unsaturated Fat:

4g
Cholesterol:

86mg
Sodium:

689mg
Carbohydrates:

64g
Fiber:

3g
Sugar:

9g
Protein:

10g
Nutritional values are approxomite and aren't always accurate.