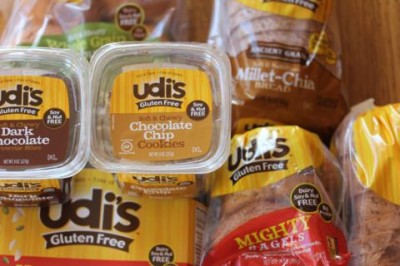 This is a sponsored post on behalf of Udi's but all thoughts and opinions are my own.
This fall marks four years since I started on my gluten free journey. I don't usually focus on gluten free eating here on my main site. I usually share the gluten free information in my allergy section, but since gluten free is such a big part of my life, and since more and more people are needing a gluten free diet, I wanted to share a few things about eating gluten free today.
Many of you may not know that the majority of what I post here on this site is gluten free. In fact, many of you may not even realize that I eat gluten free. It is a big part of my life, but I have never tried to make it the focus of my site.
I have many gluten filled recipes in the archives, and do post a few things here and there for regular food, but the vast majority of what I post now works for gluten free by simply reading labels and using ingredients like gluten free pasta and bread. Yes, gluten free eating can be quick, easy, and delicious.
I love sharing recipes and ideas that makes regular food gluten free. Gluten free can and should taste great. It doesn't have to be food full of odd and unusual ingredients.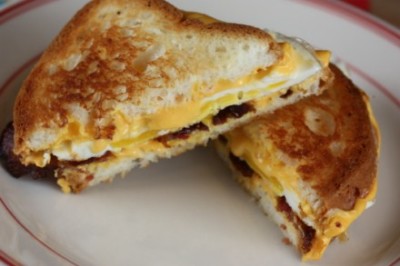 (Bacon and Egg Grilled Cheese Sandwich and yes that is made on Udi's gluten free bread. Delicious!)
Gluten free eating is becoming more and more popular. For various reasons people are needing to eat gluten free or are trying gluten free to see if it improves their health problems.
Gluten free eating is not for everyone. For some it is just a new diet or fad to try and they eventually go back to regular food. For others though gluten free eating is a necessity and changes their health in ways they could never have imagined.
It does not work for everyone, but it has changed my life. For those that don't know my full gluten free story you can read it here, but the short version is gluten free eating has let me live a life I never imagined I would.
Four years ago running a 5k was the last thing on my mind. I could not even run to the end of my driveway. I had never ran more than half a mile at one time in my life. Last Saturday I ran in my second 5k race. Yes, in the last few years I have gone from barely being able to exercise to running a 5k.
Gluten free eating has given me that. And running is just one of the ways gluten free has been worth it for me. I really could go on and on, but for now I want to share a few gluten free tips that I have learned over the last four years.
For those of you that eat gluten free these are probably things you know and live already, but I hope those of you that are new to gluten free, or have family or friend that is gluten free, will find them helpful.
Read Labels and Ask Questions
This is one of the biggest things that gluten free eating involves. Grocery shopping is never the same once you start eating gluten free. When I first went gluten free I had no idea how much my grocery shopping would change.
Reading labels are a must. Asking questions are a must. In many ways you become an investigator for your food. If you are not sure if something is gluten free search online. The vast internet world has made gluten free eating so much easier. A quick internet search will often tell you if something is gluten free and safe to eat.
Look for Naturally Gluten Free Food
There is so much food out there that is naturally gluten free and focusing on that is so important. Beans, rice, potatoes, fruits, vegetables, eggs, corn, cheese, and so much more. There really is a huge amount of food available that is naturally gluten free.
Focus On What You Can Have, Not What You Can't
Focusing on what I could have, and not what I couldn't have, was especially important to me those first few months I was gluten free. But even now, when I am having a rough day, or craving something that is not gluten free, I try to remind myself of all the things I can still have. After all most chocolate is gluten free and safe to eat. If all else fails eat chocolate right. 🙂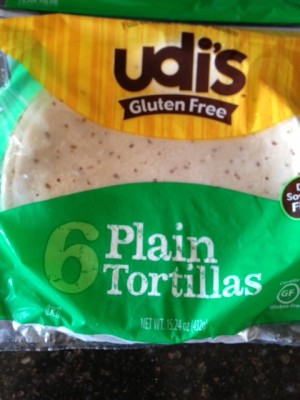 Some Things Will Never Taste the Same and That Is Okay
This was a hard one for me to except, but the reality is that some things will never taste quite the same. There are some really good gluten free pizzas out there. Udi's has a great one, but the reality is it will never be exactly the same. You just can't get that restaurant style pizza crust taste and texture we all love without the gluten. That is okay though, pizza is still good and something you can enjoy, just know it will be a little different.
Realizing that there are some foods that may never be the same really helps. Yes, they may be good, but it helps to look at them as different, not a replacement.
Once I stopped focusing so much on looking for replacements for the foods I missed, and focused on how good the gluten free version was, it helped me enjoy the gluten free baked goods so much more.
Support Companies that Support Gluten Free
There are so many companies that offer gluten free options. Support those companies. I can't believe how many more gluten free products are available now compared to four years ago when I went gluten free. And more and more stores are selling gluten free items. I love supporting stores and brands that make my gluten free life easier.
Find Someone Else That is Gluten Free- You Need Support
The gluten free life can be discouraging, lonely, and challenging at times, so having a friend or support group helps. My sister's family is gluten free and I can't even begin to count the phone calls we have had back and forth discussing gluten free products, gluten free recipes, and just talking about the tough days. I have had similar conversations with a few friends that have had to go gluten free since I did. Support makes all the difference in the gluten free life, so find try to find someone who understands.
For those of you that are gluten free I would love to hear your tips for living gluten free?
And for my disclaimer: I am not a doctor, this is just my story and the difference gluten free has made in my life.
Learn more about living gluten free! Visit (superhub URL)
This is a sponsored conversation written by me on behalf of Udi's Gluten Free. The opinions and text are all mine.