I will start by saying this recipe is NOT healthy and I do not fix it often. It is a treat for my family.
It makes a good holiday meal since it can be made ahead of time. I recently made it when we had company. It works great for a breakfast for company because it can be made a head of time and frozen.
I have been making this recipe for several years. I found it online somewhere, but don't remember exactly where. It is one of the few freezer breakfast meals that I make.
This recipe makes a 9×13 pan. I like to get bread from the bread outlet and make several pans at once to freeze.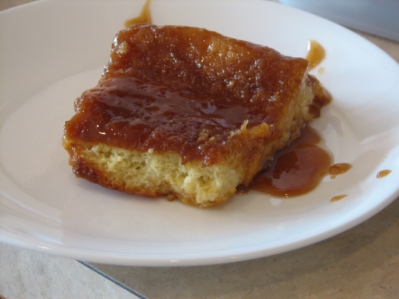 Freezer Baked French Toast
1 cup brown sugar
1/2 cup butter
2 tablespoons corn syrup
Place brown sugar, butter, and corn syrup in a saucepan. Heat until melted and combined. It will be like a thick syrup. Pour into a 9×13 pan.
1 loaf french bread sliced about 1 inch thick (I usually use regular WW bread and place in 9×13 pan 2 slices deep so about 12 slices total)
Place bread on top of syrup mixture in pan.
5 eggs
1 1 /4 cup milk
1 teaspoon vanilla
Mix together eggs, milk, and vanilla. Mix or blend well. Pour over bread. I place in the fridge for a few hours to let cool, then cover and freeze. Defrost. Bake covered with foil for about 40 minutes at 350 degrees and then uncover and cook 5 – 10 minutes more or until done.