This post has nothing to do with food or the kitchen, sorry.
We got a new dog over the weekend. He is the sweetest little puppy. My kids named him Roy.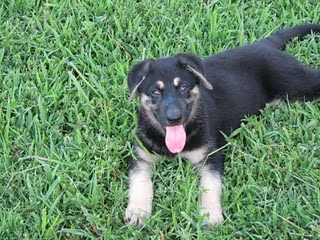 We already had two dogs. Meet Dale and Boomer. Dale is the black and tan one. Boomer is the large black lab mixed with something dog.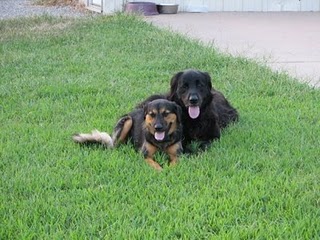 Boomer and Dale are great dogs. Our kids love them and they are great with the kids. Boomer was a stray dog that our friends found. No one knew where he came from and our friends could not keep him, so we took him. He is a big dog, at least 80 pounds. He has a fierce deep bark when he chooses to bark. The trouble is he rarely chooses to bark and he he will be your friend for life if you pet him. So, we wanted another dog to help Boomer with his barking problem. We thought if he had another dog that barked he would also bark.
We got Dale last summer from a local animal shelter. We were told she was a shepherd mix. We thought that would be a great choice. I grew up around German Shepherds and thought a shepherd mix would be a great dog. Well, Dale is a great dog, but she does not like to bark either and she will also be your friend for life if you pet her.
So, here we are living way out in the country with two dogs who don't bark at anything. If there is any chance you will pet them, they wag their tale and wait patiently for you to be their friend. We decided we needed to try to get another dog. Hopefully, one that barked at least a little.
We started looking around and we found a German Shepherd that we liked. We got him over the weekend. So far he seems at least a little more "fierce". Both Boomer and Dale run, I mean run for their lives, if they see running water. If you get a hose that has running water coming out anywhere near either of them they take off. Roy on the other hand seems to love water. He loves playing with the water coming out of the faucet. Maybe the fact that he does not run and hide from water is a good sign. We hope so.
Any guesses why my kids wanted to name the new dog Roy?
We do not let our kids watch much TV. Basically no TV. We do let them watch a few old movies and TV shows that we have on DVD. One of their favorites to watch are the old Roy Rogers and Dale Evans movies. Last year when we got a new dog they decided to name her Dale. So, it only made sense to them that our new dog being a male should be name Roy. So now I feel kind of silly calling Roy and Dale to come across my yard.
I will try stick with food in my next post.