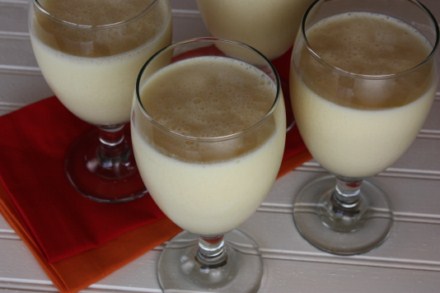 I was recently reading the Everyday Food blog, written by the Everyday Food team at Martha Stewart, and I had one of those, why have I never tried that moments.
I am sure this idea is not unique or original to them, but something about reading it written by the Everyday Food blog, made me realize it was a great idea. I could not believe I had never done it before.
What was the idea? It was freezer or make ahead smoothies. So, simple and yet so smart.
Their idea was basically to make your smoothies ahead and freeze them. They suggested freezing them in Ziploc type bags. Then when you need one for breakfast, you simply remove the bag from the freezer, place it in the fridge overnight, and it will be the perfect consistency in the morning.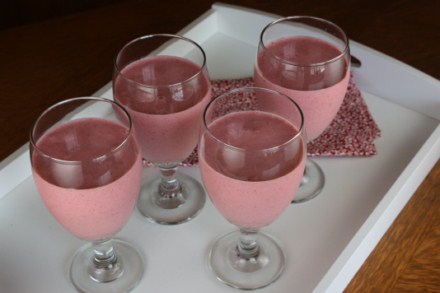 I loved this idea and knew it would work perfect for my family. I gave it a try and smoothies will never be the same in our house.
We love these. It is so easy to make a large batch or two of smoothies once a week and freeze them for use throughout the week.
I did however change the technique a little bit. I have a bunch of little reusable freezer containers in various size that I think are less expensive than using Ziploc freezer bags. Both the Ziploc bags and small containers work, I just prefer the reusable containers.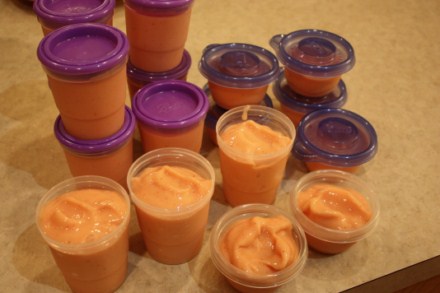 The larger containers do take a little longer to defrost. If I need them for breakfast the next day, I usually try to place the containers in the refrigerator about dinner time the night before. I have found that it takes ten to twelve hours for them to defrost to the consistency that we like. The Ziploc bags and smaller containers do not take quite as long to defrost.
I really like using the containers because we can just drink the smoothies right from them. I also like that fact that we can easily take them with us for a snack or quick meal on the go.
The Everyday Food Blog suggested that you not use a dairy based smoothie because the texture would not be as good, well I totally disagree on that one. Most of the smoothies that I make are yogurt or dairy based and I think that they freeze and defrost just fine. We have not had an issue with the texture at all.
Two of your favorite smoothies to freeze are Strawberry Banana and Pineapple Orange.
Is this something that everyone has been doing ? Was I just clueless about making smoothies ahead and freezing them?