When many of you read fried cabbage as the title of this you were probably thinking, really fried cabbage?! Is she really talking about fried cabbage today? And let me tell you that is exactly what I used to think when I heard about fried cabbage.
You see cabbage is not my favorite food, I will eat it, but it really is not something I go out of my way to fix. It is good in coleslaw and I will eat it in soup. My husband loves it in corned beef and cabbage, but even that is not my favorite way to eat it. Basically, I can take or leave cabbage, and more often than not, I leave it.
However, for my Cooking Through My Collection Series I really want to experiment and try some things outside my normal recipes. I want to explore my collection and branch out and cook some things I have not fixed before.
So, when I recently had some extra cabbage that needed used up, I went looking through my cookbooks for a new way to serve it.
Two of my favorite types of cookbooks are older cookbooks and regional cookbooks. I love old cookbooks because so many of the recipes are basic and simple. Our grandmothers and great grandmothers knew how to cook. Most of them could make a meal out of the most basic of ingredients and there is so much to learn from them.
And I love regional cookbooks because you can learn so much about food from across the country just by looking through regional cookbooks. Regional cooks know how to cook the best foods from the area because they have worked with the ingredients for years.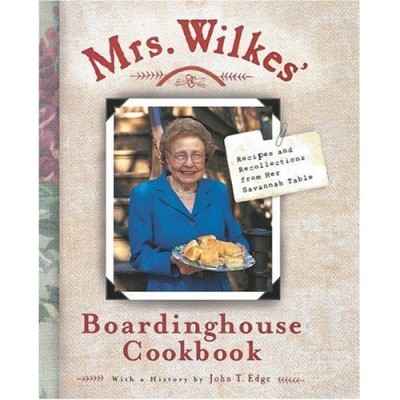 So, it was no surprise when I found a recipe for fried cabbage in a cookbook I have called Mrs. Wilkes' Boardinghouse Cookbook .
This cookbook combines old recipes and regional food. Although this cookbook is not old, in fact it was published not that long ago, the recipes in this book are for classic old fashioned recipes.
The recipes in this cookbook come from a historic boardinghouse in Savannah. This cookbook contains good old fashioned southern cooking. These are not fancy recipes, they are good home cooked tried and true meals.
So it really was no surprise that this cookbook contained a recipe like fried cabbage. And it did not take me long to realize this was the cabbage recipe I needed to try.
Now I will say that this recipe was hard for me to follow, because it contains a crazy amount of bacon grease. But that crazy amount of bacon grease might just be what attracted me to this recipe. I mean once you cover something in enough bacon grease it ought to be good, right?!
And I will admit the bacon grease made this really good! In fact, I really enjoyed this and I did not think I would since I am not a huge fan of cabbage. My family did find it, well, a little greasy. That is no surprise though since it contains so much bacon grease.
This is a recipe I will definitely make again, but next time I will cut back on the bacon grease by at least some. You need the bacon grease to give it some flavor, but I would like to avoid the greasiness next time.
I would love to hear your thoughts on cabbage. Do you love it, hate it, or are you like me and can usually take it or leave it?
Yield: 6 servings
Fried Cabbage
Fried Cabbage is an easy to make old fashioned side dish.
Ingredients
1 head cabbage
1/4 cup bacon grease (I think 3 tablespoons would work too)
salt and pepper to taste
3 tablespoons sour cream
Instructions
Wash, core, and cut cabbage into 1/4 inch chunks. ( I shredded the cabbage instead and we like it that way.)
In a large pan heat bacon grease.
Add cabbage and stir for about 2 minutes or until cabbage is crisp-tender.
Season with salt and pepper and cook for about 1 minute more. Stir in sour cream and remove from heat. (You want the cabbage crisp-tender. Similar to a stir fry, so you do not want to over cook it or it will wilt.)
Serve and enjoy!
Nutrition Information:
Yield:
6
Serving Size:
1
Amount Per Serving:
Calories:

139
Total Fat:

10g
Saturated Fat:

4g
Trans Fat:

0g
Unsaturated Fat:

5g
Cholesterol:

12mg
Sodium:

81mg
Carbohydrates:

12g
Fiber:

4g
Sugar:

6g
Protein:

3g
Nutritional values are approximate and aren't always accurate.