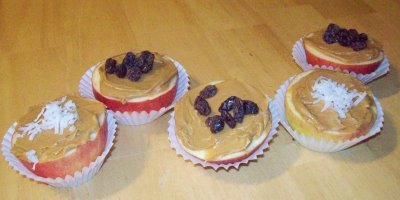 Here is another post by my friend Faith. She blogs at Faith Of All Crafts. I hope you enjoy her fun idea.
Apple Cupcakes:
My children are fruit fanatics. If I would allow it, and could afford it, they would eat nothing but fruit all day long. One of the problems with this is that fruit doesn't keep them full for very long. I always try to pair something with the fruit to keep them full longer (cheese, nut butters or nuts usually) All you need for these are apples and peanut butter. You can include other toppings, as you see we did coconut and raisins, but those are not necessary.
Remove stems from apples.
Cut apples in half horizontally, and remove core & seeds. I used a melon baller which was a pretty easy method.
Spread peanut butter onto apples.
Add any toppings you want.
I think these would be very good with almond butter as well, but I didn't have any on hand. My kids are much better at eating things when I make it cute for them. Presentation is everything.