Gluten-Free Angel Cookies are a classic holiday cookie made gluten-free.
One of things I miss about gluten free baking is the ability to just make something. I used to see a recipe for a cake, bread, or cookie and I would say, I am going to make that today.
With gluten free baking I don't usually say that because so much more work is usually involved.
It takes figuring out what flour or blend will work in a recipe. It takes more planning to be sure I have everything that I need. And it takes me being willing to face a cooking disaster that day. We all know that gluten free baking involves disasters especially when you try to convert recipes.
Earlier this week I saw a recipe link in my Facebook stream for Angel Face Cookies from Money Saving Mom, I instantly wanted to make them. It was not a I will print this out and try to figure it out later type of plan, I wanted to try to make them gluten free right then.
I am not sure why these cookies were calling my name right then, but they were. It may have been because they are a cross between a sugar cookie and a snickerdoodle, both of which are favorites in our house, but I went right to work on figuring them out gluten free.
The amazing thing about this recipe is that it worked the first time I tried it gluten free. And it did not just work, these were really good. That doesn't usually happen the first time I convert something to gluten free.
These are a simple cookie. They are more of an old fashioned type cookie, but they are really good. I have no idea how the original gluten filled version tastes, but the gluten free version will be a do again in our house.
And I think the description of a cross between a snickerdoodle and a sugar cookie is perfect for them.
If you need an easy, yet simple gluten free holiday cookie, these are really good.
I think if you made these crispy, by baking them a little longer, they would make a great cookie type crust on a gluten free dessert.
Yield: 36 cookies
Gluten Free Angel Cookies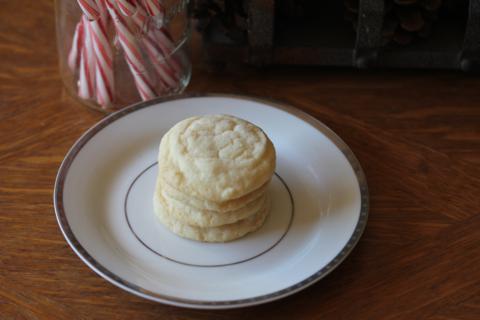 A classic holiday cookie made gluten free.
Ingredients
1/2 cup butter, softened
1/2 cup shortening
1/2 cup + 1/3 cup sugar (plus more for rolling cookies in)
1/4 cup brown sugar
1 egg
1 teaspoon vanilla
1 1/4 cup white rice flour
1/2 cup sweet rice flour
1/4 cup cornstarch
1/2 teaspoon xanthan gum
1 teaspoon cream of tartar
3/4 teaspoon baking soda
1/2 teaspoon salt
Instructions
Heat oven to 350 degrees.
In mixing bowl beat together butter, shortening, 1/2 cup + 1/3 cup sugar, and brown sugar.
Add egg and vanilla.
In a separate bowl combine rice flours, cornstarch, xanthan gum, cream of tartar, baking soda, and salt. Add to butter-sugar mixture and mix well.
Shape about 1 tablespoon of batter into a ball and roll in sugar. I used my cookie scoop and then dropped them into sugar and it worked great.
Place on cookie sheet and bake for 9-11 minutes. 9 minutes for a softer cookie and a little longer for a crisper cookie.
Nutrition Information:
Yield:
36
Serving Size:
1
Amount Per Serving:
Calories:

94
Total Fat:

6g
Saturated Fat:

3g
Trans Fat:

0g
Unsaturated Fat:

2g
Cholesterol:

14mg
Sodium:

78mg
Carbohydrates:

10g
Fiber:

0g
Sugar:

3g
Protein:

1g
Nutritional values are approximate and aren't always accurate.
Note: My version makes half what the original recipe did, but it was plenty for us.