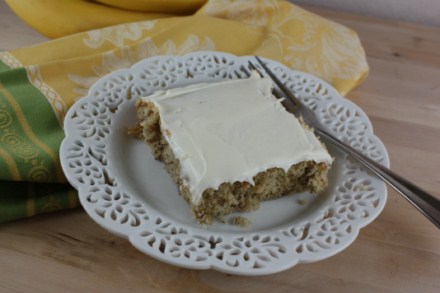 I have been making banana bars for years. I recently adapted my family's favorite recipe and made it gluten free. It turned out so well.
This is another one of those recipes that with a few tweaks worked so perfectly gluten free. It had the exact texture that banana bars should have.
I have read and tried many gluten free specific recipes over the last year, but I am having the best success with adapting the recipes we already loved.
Do you cook mainly from gluten free cookbooks and sites, or do you prefer to adapt regular recipes to be gluten free?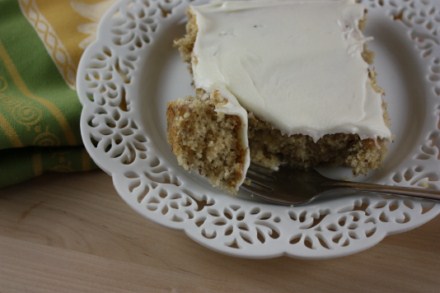 Gluten Free Banana Bars
1/2 cup butter, softened
1-1/2 cups sugar
2 eggs
1 cup (8 ounces) sour cream
1 teaspoon vanilla extract
¾ cup sorghum flour
¾ cup potato starch
½ cup tapioca flour
1 1/2 teaspoons xanthan gum
1 teaspoon baking soda
1/4 teaspoon salt
2 medium ripe bananas, mashed  or equal to 1 cup
In a mixing bowl, cream butter and sugar.
Add the eggs, sour cream and vanilla.
Combine the sorghum flour, potato starch, tapioca flour, xanthan gum, baking soda, and salt and gradually add to the creamed mixture.
Stir in bananas.
Spread into a greased 15-in. x 10-in. x 1-in. baking pan. ( My pan is 11x17x1 and it worked fine but they are a little thinner)
Bake at 350° for 25-30 minutes or until a toothpick inserted near the center comes out clean. Cool.
Frost
FROSTING
1 package (8 ounces) cream cheese, softened
1/2 cup butter, softened
2 teaspoons vanilla extract
3-3/4 to 4 cups confectioners' sugar
For frosting, in a mixing bowl, beat the cream cheese, butter and vanilla. Gradually beat in enough confectioners' sugar to achieve desired consistency. Frost bars. Store in the refrigerator.