My daughter, who also eats gluten free, loves bananas. And she loves anything with bananas in it. So, she loves that fact that bananas work so well in gluten free baking.
This is a banana cake recipe that was originally a Martha Stewart recipe, that I adapted to be gluten free. And not only did I adapt it to be gluten free, it worked gluten free the first time I made it.
I love it when a recipe turns out the first time I make it recipe gluten free, because all too often that does not happen and it takes much tweaking and adjusting.
This one turned out perfect and we love it.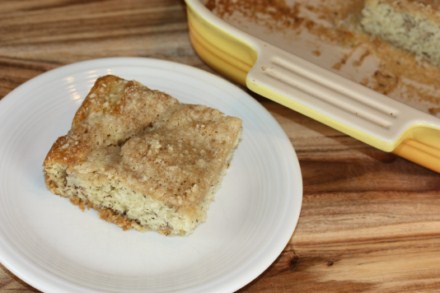 Gluten Free Banana Coffee Cake
1 cup white rice flour
1/2 cup cornstarch
1/2 cup sweet rice flour
1/2 teaspoon xanthan gum
1 1/2 teaspoons baking powder
1 teaspoon baking soda
3/4 teaspoon salt
3/4 cup sugar
1/2 cup butter, melted
1/2 cup buttermilk
2 eggs
1 teaspoon vanilla
2 ripe bananas, mashed
Topping:
2 tablespoons rice flour
2 tablespoons cornstarch
1/4 cup butter
In a large bowl combine rice flours, cornstarch, xanthan gum, baking powder, baking soda, salt, and sugar. Add 1/4 cup buttermilk and butter and stir to combine .
In a separate bowl combine remaining buttermilk, with the eggs and vanilla then add to flour mixture with bananas and stir until combined.
Spread batter into a greased 9×13 pan.
Combine topping ingredients until they resemble a crumbly mixtures and sprinkle over cake batter.
Bake at 300 degrees for 35-40 minutes or until a toothpick inserted in the center comes out clean.