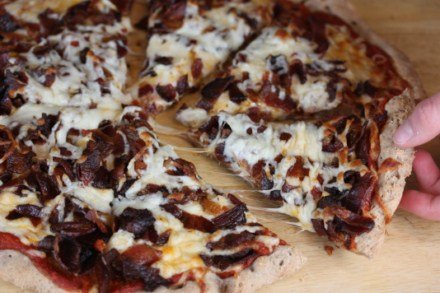 Bacon Pizza anyone?!
I think bacon pizza is our new favorite pizza. It is so good.
And when I say bacon pizza, I really do mean bacon pizza. We load our homemade pizza with bacon because bacon really should be the star of bacon pizza.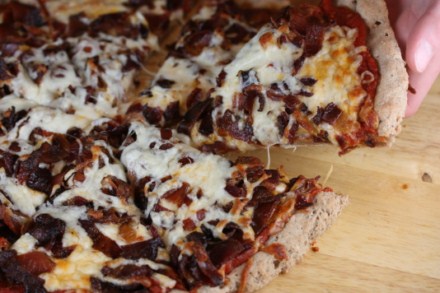 I got the idea for bacon pizza from a local restaurant that serves a pizza loaded with bacon and since my family loves bacon, I knew it was a pizza I had to try at home.
Bacon and cheese on a pizza had to be a good combination.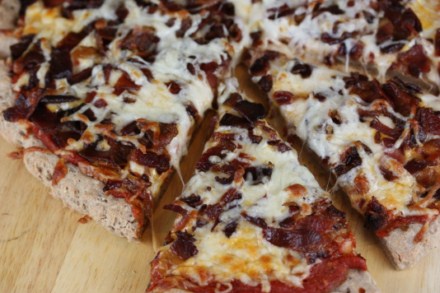 And good does not even begin to describe this pizza. See all that bacon?! YUM!
We really do love this bacon pizza. Our old stand by for homemade pizza was pepperoni, but bacon is now our go to homemade pizza. It is so good!
Have you tried bacon on your pizza before? If you have not tried it,  you really should give it a try.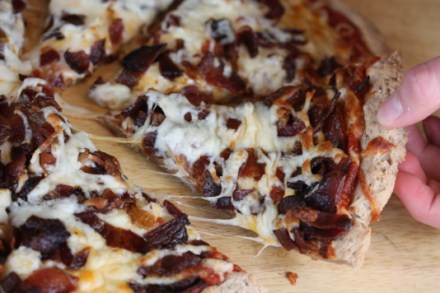 Bacon Pizza
1 pizza crust about 10-12 inches- I use homemade and my homemade gluten free crust, but you can use whatever pizza crust you enjoy
3/4- 1 lb bacon, cooked and cut into bite sized pieces ( If I have a 1 full pound I usually use it, the more bacon the better.)
1/3 cup pizza sauce
2-3 cups shredded mozzarella cheese
Spread crust on pizza pan.
Spread sauce on crust (If I am using my gf pizza crust I prebake the crust for a few minutes before topping)
Sprinkle with half of the cheese.
Sprinkle bacon on top of cheese.
Top with remaining cheese.
Bake at 400 degrees for 12-14 minutes of until crust is done and cheese is slightly browned.