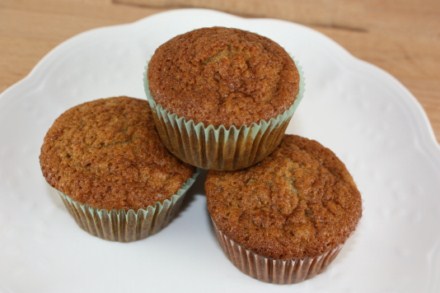 My daughter loves bananas. She will eat just about anything that has bananas in it.
One of the things that she has missed since we went gluten free is banana breads and muffins. I had several regular recipes that I thought might work using gluten free flours. I knew that the flavor of  the bananas would help cover up the strong flavor that the gluten free flours sometimes have.
After tweaking things a few times, I finally came up with a gluten free banana muffin that we love. My daughter was thrilled to once again enjoy banana muffins, and I was happy to finally find a recipe that works.

Gluten Free Banana Muffins
½ cup + 1 tablespoon sorghum flour
½ cup + 1 tablespoon potato starch
¼ cup + 2 tablespoon tapioca flour
1 ½ teaspoon xanthan gum
3/4 cup sugar
1 teaspoon baking powder
1/2 teaspoon baking soda
1/4 teaspoon salt
1/2 cup butter, melted
1 1/2 cups mashed bananas
2 eggs
3/4 teaspoon vanilla
Preheat oven to 350 degrees. Line muffin pan with liners.
In a bowl mix sorghum flour, potato starch, tapioca flour, xanthan gum, sugar, baking powder, baking soda, and salt.
Mix in butter, mashed bananas, eggs, and vanilla. Stir just until incorporated.
Spoon batter into muffin pan lined with paper liners.
Bake 25-28 minutes or until done.
Cool completely.