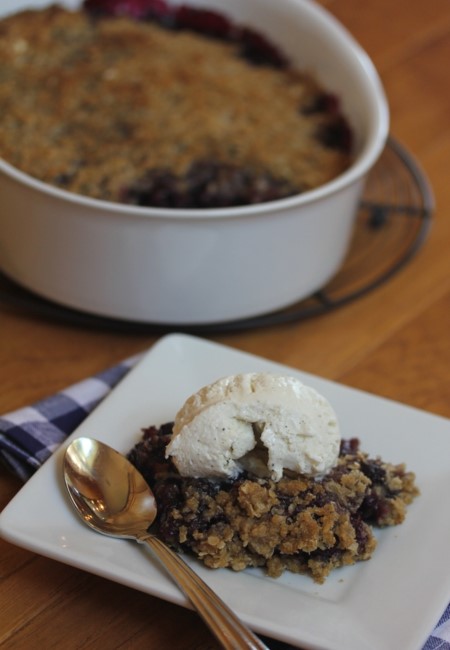 Blueberries and maple syrup combined in a crisp with a scoop of vanilla ice cream is delicious!
We have several blueberry bushes in our garden and they have done really well this year. I love good blueberry years because that means that we not only enjoy blueberries during the summer, but I also get to stock my freezer with blueberries to use all year long.
One of my favorite ways to use blueberries is in crisps and cobblers. They are one of the easiest fruit desserts to make. They are simple and classic.
One of the things that makes them so easy is that they contain only a few basic ingredients. Nothing special or fancy. And yet crisps and cobblers are still so good. They are also easy to make gluten free.
This blueberry maple crisp is a pretty basic crisp recipe that I changed up by using a gluten free flour blend I had on hand and maple syrup for sweetening the berries.
I loved the flavor of maple syrup in this crisp. The flavor blended so well with the blueberries and oatmeal topping.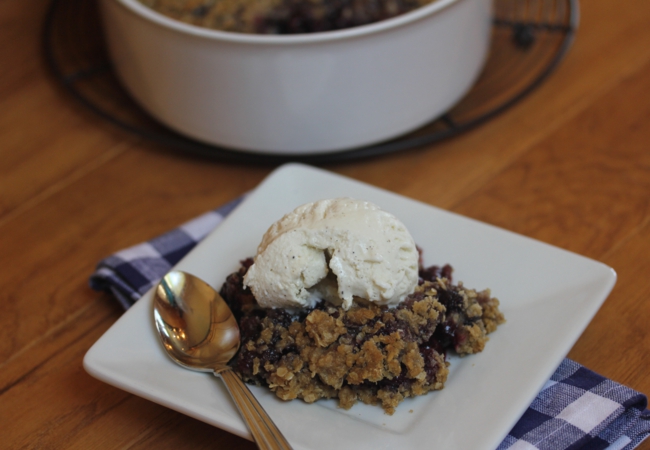 Gluten Free Blueberry Maple Crisp
5 cups fresh or frozen blueberries
1/2 cup maple syrup
3 tablespoons cornstarch
1 teaspoon ground cinnamon
3/4 cup brown sugar
3/4 cup gluten free quick cooking oats
1/2 cup gluten free flour blend
1/2 cup butter
Preheat oven to 375.
In a large bowl combine blueberries, syrup, cornstarch, and cinnamon.
Spread into a greased 8×8 pan.
In a small bowl combine brown sugar, oats, and gluten free flour blend. Cut in butter until mixture resembles coarse crumbs.
Sprinkle over blueberries.
Bake for 35-40 minutes or until topping is lightly browned.
Serve warm topped with ice cream or whipped cream.