Beer Marinated Grilled Chicken Tacos are one of my favorite summertime meals. They are simple to make and take tacos to a whole new level.
This recipe for my Cooking Through My Collection Series comes from Weber's Real Grilling cookbook, which is one of my favorite and most used cookbooks.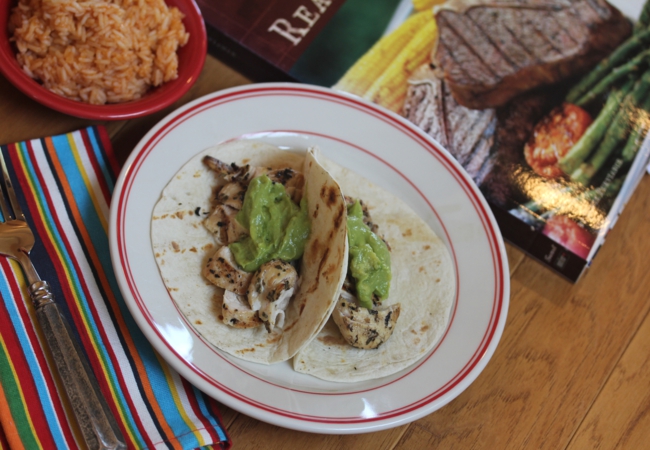 My sister first told me about this cookbook by Weber years ago. I think it was shortly after it came out in 2005. And I am pretty sure this was the recipe she told me I must try from the book. I bought the book and have loved it since.
In fact, I now own several of Weber's grilling cookbooks and love them. If you need some new grilling ideas or inspiration I highly recommend Weber's grilling books.
Today's recipe is for a simple grilled chicken taco. I would call this recipe quick and easy, but since it marinates for several hours it is not exactly quick, but it is easy and perfect for summer.
I like to serve these grilled chicken tacos with a simple Mexican rice. This is also a great recipe to double so that you can use the leftovers for nachos or in a chicken taco salad.
I have adapted this recipe over the last few years because of my daughters allergies. The original recipe called for sesame oil and since my daughter is allergic to sesame I no longer use it. If you can have sesame and have some on hand, you can add 2 tablespoons to the marinade. It does add some extra flavor to the tacos, but you can easily leave it out like I do and it will still be delicious!
Beer Marinated Grilled Chicken Tacos
1 cup beer – I use a gluten free beer
1 tablespoon minced garlic
1 teaspoon dried oregano
1 teaspoon kosher salt- or about 1/2 teaspoon regular salt
1/2 teaspoon ground black pepper
1/4 teaspoon cayenne pepper
4-6 boneless chicken breast or thighs
corn tortillas, salsa, guacamole, etc for serving
Combine all marinade ingredients in a resealable zip top type bag.
Add chicken and place the bag in a shallow pan or bowl. Refrigerate for 2-4 hours.
Remove chicken from marinade and grill over medium high heat for 6-8 minutes per side. Time for cooking may vary depending on the size of the pieces of meat.
Serve on corn tortillas with toppings of your choice.