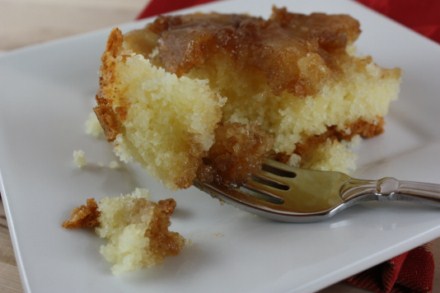 When I first started seeing the different versions of Betty Crocker's Caramel Apple Cake I knew I wanted to come up with a gluten free version. I was pretty sure I could come up with a version that did not use a cake mix like the gluten free version that is on the Betty Crocker site.
I based this recipe on the regular version of the Caramel Apple Cake that I made for my husband's office and it turned out so good. I ate way too many pieces of this gluten free cake. My husband had pieces of both versions and said they were equally as good.
This gluten free cake is definitely one that I will be making each fall.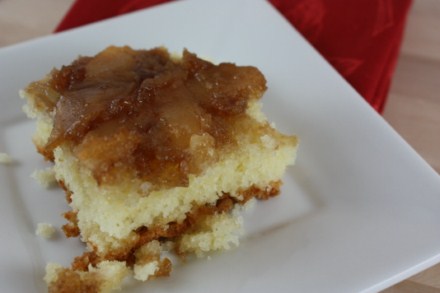 Yield: 12 pieces
Gluten Free Caramel Apple Cake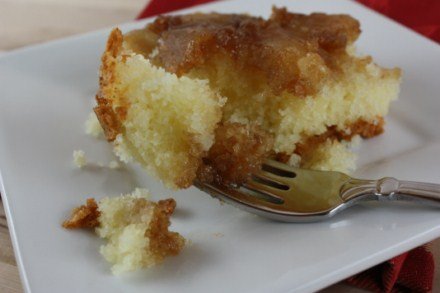 Caramel and apples combined in this easy to make gluten free apple cake.
Ingredients
Topping
1/2 cup butter
1 1/3 cup packed brown sugar
1 teaspoon ground cinnamon
4 apples, peeled and thinly sliced
Cake
1 cup + 2 tablespoons white rice flour
1 cup cornstarch
2 teaspoon baking powder
1teaspoon xanthan gum
1 teaspoon ground cinnamon
1 teaspoon salt
1 cup granulated sugar
1 cup butter, softened
4 eggs
1/2 cup milk
Instructions
Grease an 9x13 cake or pyrex pan and set aside.
For Topping:
In a saucepan, melt 1/2 cup butter over medium heat. Stir in brown sugar. Heat to boiling; remove from heat and stir in 1 teaspoon cinnamon.
Pour into pan and spread evenly.
Arrange apple wedges over the topping mixture.
Set pan aside.
For Cake:
In a bowl mix together rice flour, cornstarch, baking powder, xanthan gum,1 teaspoon cinnamon, and the salt and set aside.
In another bowl beat together sugar and 1 cup butter on medium speed, until fluffy.
Add eggs one at a time.
Gradually add flour mixture.
Then add milk and beat until thoroughly combined.
Spread batter over apple wedges in brown sugar mixture.
Bake at 325 for 50-60 minutes or until done.
You can flip this cake out onto a platter to serve, but we just flipped each piece over as we served them.