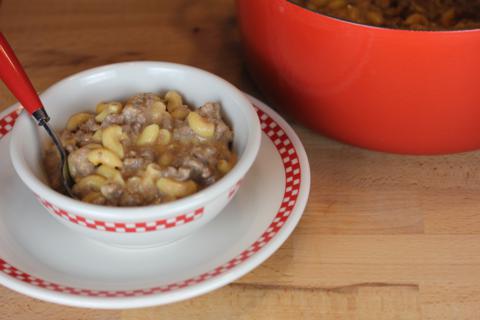 Today I have another quick and easy gluten free dinner idea for you. And not only is this quick and easy to make, it is a great kid friendly gluten free meal.
I receive many emails and comments from readers that are new to gluten free and are overwhelmed with gluten free cooking and baking. Many of those same people are new to cooking from scratch and that makes gluten free cooking even more overwhelming.
Yes, there are many gluten free boxed and pre-made items available, and there are times I love and use those, but they can be very expensive and lacking in taste and texture. I have found that homemade is usually the best option for both taste and the budget.
On my main site I have shared many homemade favorites and many of those favorites can be made gluten free simply by changing a few things or using gluten free ingredients.
Today's gluten free cheeseburger helper is one of those that is easy to make gluten free. So, I decided to share it here today with the changes needed to make it gluten free.
For those of you that loved the boxed versions of the helper meals or have kids that did, I highly suggest making this.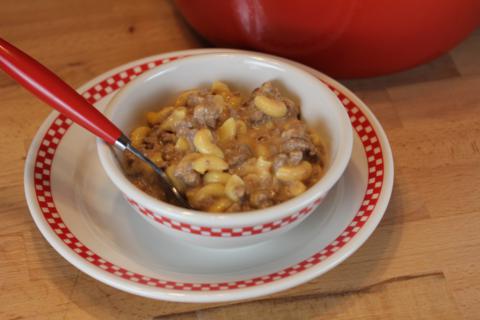 Cheeseburger Helper
1 lb ground beef
1 cup gluten free beef broth ( I usually make this up using a gluten free bouillon and water)
1 3/4- 2  cups milk ( I add 1 3/4 to begin with and add a little more if needed as it cooks. Different brands of gluten free pasta cook a little different)
8 ounces tomato sauce
2 cups gluten free macaroni or other type noodles
1 cup sour cream ( optional, but makes it nice and creamy)
1 ½ cups shredded cheddar cheese
Salt to taste
In a large sauce pan brown the ground beef. Drain any fat from the meat.
Add the beef broth, milk, and tomato sauce to the meat and bring to a boil.
Add the macaroni noodles.
Reduce heat to low. Cover and cook for 17-20 minutes. Test at 17 minutes to see if the pasta is done. If pasta is not done, cook a few minutes longer.
When the pasta is tender and done, stir in shredded cheese and sour cream if using.
Let sit 5- 10 minutes before serving and it will thicken more.
And here is my little disclaimer. 🙂 It has been a really long time since we had a box of Cheeseburger Helper, so I am not sure that this taste will be 100% the same taste you get from the box. I know they change the taste and formulations over the years and the tastes may have changed some since I tried it last. But I have been making homemade versions for years and we love the homemade versions better than any of the boxes we tried.