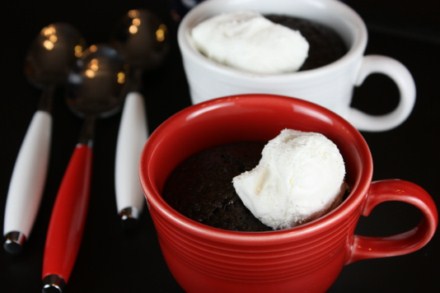 I have seen mug cakes all over magazines, tv, and the internet. Many of them are made in the microwave, but some of them are made in the oven. All of them are basically a version of a chocolate pudding cake.
We love my gluten free chocolate pudding cake, so I was sure we would like a gluten free version of a mug cake. I have wanted to make a gluten free version for awhile now, and I finally tried it last week.
I cannot believe I waited so long to try this. My kids loved this and thought it was so much fun to have their own cup of dessert to eat. My husband and I also loved this.
This is one of those desserts that you could easily serve to anyone and they would have no idea it was gluten free. This was rich and chocolaty and oh so good. This would make a perfect gluten free dessert to serve on Valentine's Day.
Gluten Free Chocolate Mug Cake
1 1/2 cups sugar
3/4 cup sorghum flour
1/2 cup potato starch
1/2 cup tapioca flour
1/2 teaspoon xanthan gum
1/2 cup dutch processed cocoa
1/4 teaspoon baking powder
1/4 teaspoon baking soda
3/4 teaspoon salt
2 eggs
3/4 cup buttermilk
1/3 cup oil
1/2 tablespoon of vanilla extract
3/4 cup very hot water
whipped cream or ice cream for serving
Preheat oven to 350 degrees.
In a bowl mix together the sugar, cocoa,  sorghum, potato starch, tapioca starch, xanthan gum, baking poweder, baking soda, and salt. Set aside.
In a mixing bowl combine eggs, buttermilk, oil, and vanilla.
Mix in dry ingredients and stir until just combined. Slowly stir in hot water and stir just until combined.
Carefully pour the batter into 8 oven proof coffee cups, this may make more or less depending on the size of mugs that you use. ( You could also use large ramekins for this.)
Place mugs into a large 9×13 pan and bake for 20-25 minutes. You do not want to over cook this or it will not have the pudding texture.
Serve warm with whipped cream.