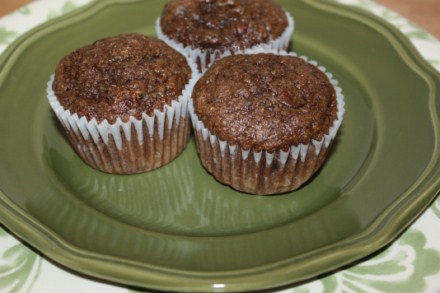 What is it about zucchini? It seems like one or two plants will feed a neighborhood. Right now I have more zucchini than I can use, so I am getting creative in how I use it.
In years past, I have made a lot of zucchini bread, cakes, and muffins, but this year I am still figuring out how to bake gluten free. So, one by one I am trying to adapt old zucchini recipes to be gluten free.
This is the first zucchini recipe I adapted to be gluten free. With a few tweaks, it worked perfectly.
I have made these several times now and my kids love them.

Gluten Free Chocolate Zucchini Muffins
1/2 cup butter
1/2 cup oil
1  1/2 cups white sugar
2 eggs
1/2 cup buttermilk
1 teaspoon vanilla extract
¾ cup sorghum flour
¾ cup potato starch
½ cup tapioca flour
2 teaspoons xanthan gum
1 teaspoon baking soda
1/2 teaspoon salt
4 tablespoons unsweetened cocoa powder
2 1/2 cups grated zucchini, I used the smallest side of my grater b/c I like it small. ( I did not really measure this. I used 1 med zuch.)
¾ cup semisweet chocolate chips
Place grated zucchini in a strainer and drain as much liquid off as you can. Set aside.
Cream together butter, oil and sugar. Add eggs, buttermilk, and vanilla. Blend well.
In a separate bowl, mix together dry ingredients. Mix dry ingredients into the butter mixture. Add grated zucchini, and mix well. Stir in  chocolate chips.
Scoop batter into muffin pan lined with paper liners or a well greased muffin pan. Bake at 325 degrees F  oven for 18-20 minutes. Makes 24 muffins.