Gluten Free Dairy Free Pancakes can be easy and delicious!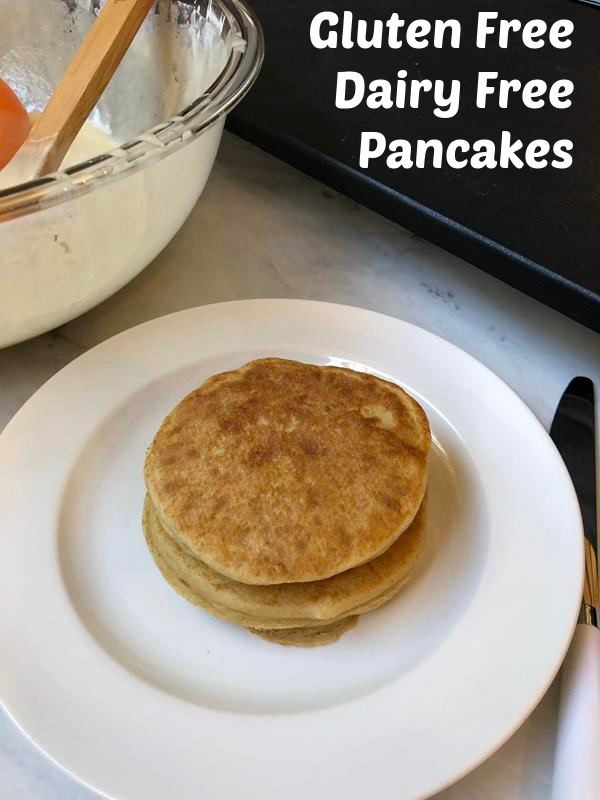 Gluten free dairy free eating can be challenging. There are so many foods that you miss when you eat gluten and dairy free. But it is possible to make delicious gluten free dairy free meals for your family.
This recipe for gluten free dairy free pancakes is a recipe that I make all the time and that my whole family eats. The non gluten free eaters love it. Those that do not need to eat dairy free also love it. Everyone enjoys these gluten free dairy free pancakes.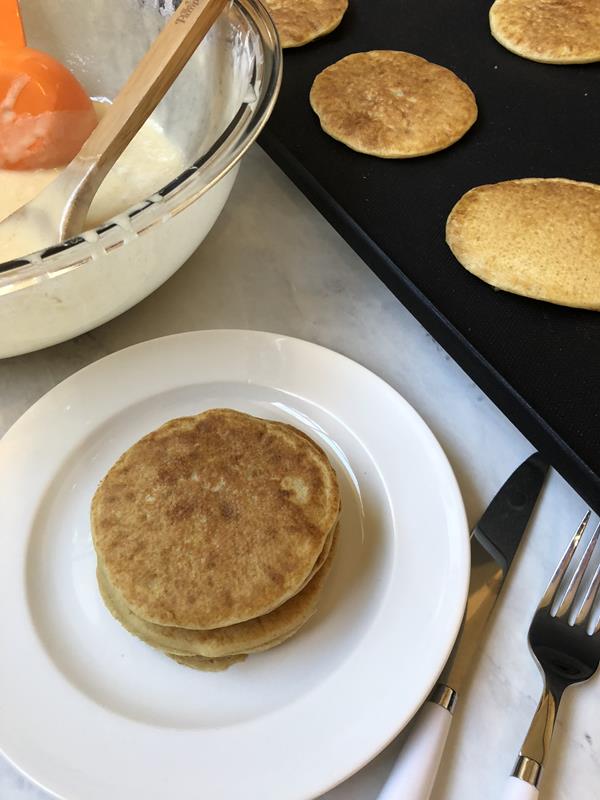 This recipe for gluten free dairy free pancakes is actually a recipe that I adapted from my mom. The regular version of this recipe is the recipe that we ate every week when I was growing up. They are the only pancakes that I remember my mom making.
Several years ago I adapted my mom's recipe to be gluten free. My family loved the gluten free version that I came up with. We ate it all the time.
When my daughter started eating dairy free, I realized that the recipe was also dairy free.
Yes, I should have realized this earlier because I have been making this recipe for years. It took my daughter eating dairy free for it to really register with me that this recipe is perfect for those that need to eat dairy free too.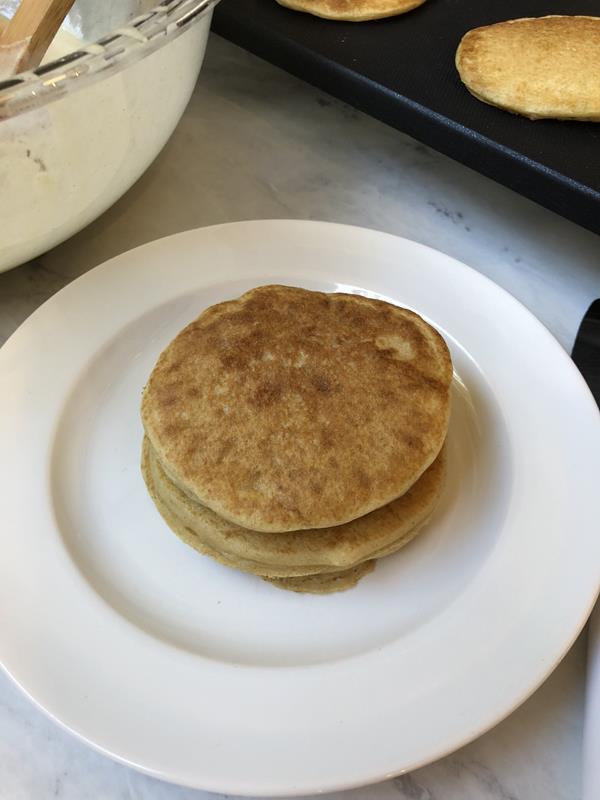 My mom always called her pancakes sourdough pancakes, but they aren't really a traditional sourdough recipe. They are a quick and easy sourdough because you don't need a sourdough starter for them.
For this recipe you basically make your own sourdough by making part of the recipe ahead of time and then finishing them off when you are ready to cook them.
My mom's recipe is different than any other pancake recipe I have seen. I am guessing that is because my mom adapted them years ago to what she needed them to be and she just kept making them that way.
These pancakes are one of the least expensive pancakes that you can make. Which is why my mom probably made them so much. There is no dairy, so she didn't have to use expensive milk products to make them.
All the ingredients are ones that she had on hand all the time. She could make these anytime she wanted them. You can find my mom's original recipe for easy sourdough pancakes here. I shared it quite a few years ago.
The gluten free version is the same way. As long as you have gluten free flours on hand, or a gluten free blend, you can make these.
They are an easy and inexpensive gluten free dairy free pancake to make. You can't say that about very many gluten free dairy free recipes.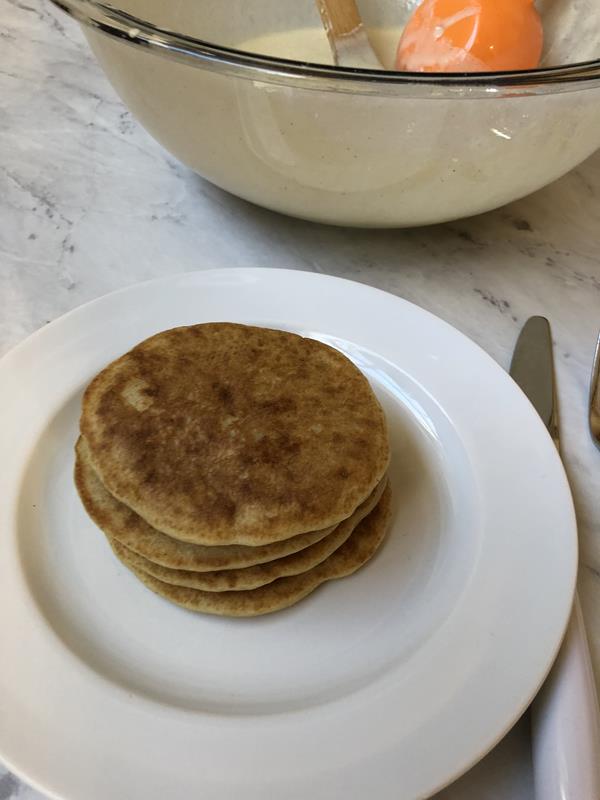 I will say that these are not a really light and fluffy pancake. They resemble more of a sourdough pancake. So they are a little different in texture and taste, but they are delicious!
They really are the best gluten free dairy free pancakes that I have made.
I often make extra so that my daughter can freeze them for mornings that we eat something that is not dairy free.
You do have to allow for extra time when making these because you start the batter the night before and then finish it off in the morning when you are ready to make them.
Or if you want to use them for a breakfast for dinner you can start the batter in the morning and finish it off at dinner time when you are ready to make the pancakes.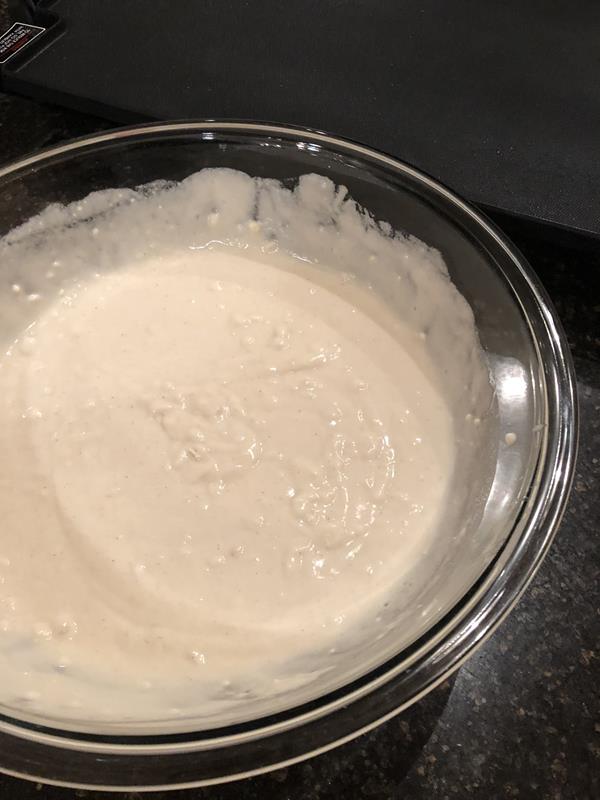 This is what the pancake batter looks like when you make it the night before. You cover it and let it "rise" overnight.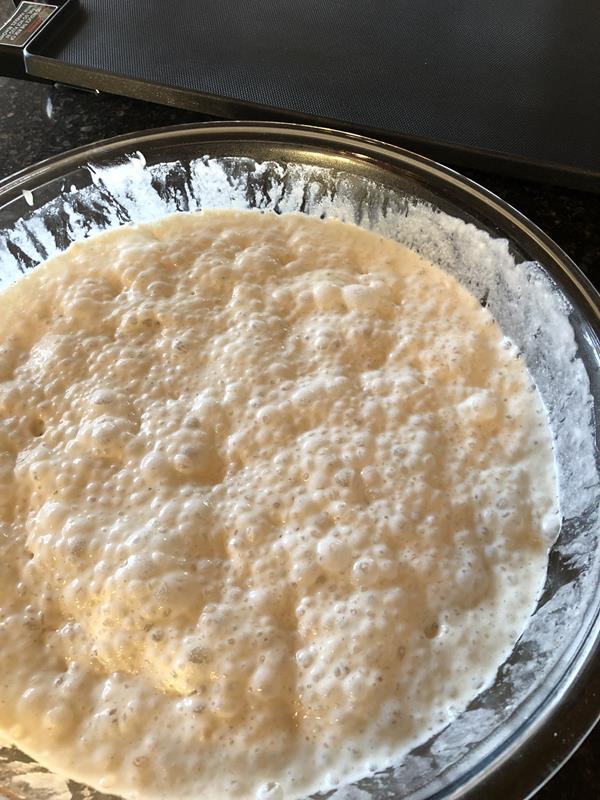 This is what it looks like in the morning. It rises overnight and is full of air bubbles. In the morning all you have to do is add the rest of the ingredients, stir it all together, and make your pancakes.
Need more gluten free dairy free recipes?
Tools to make this recipe easier: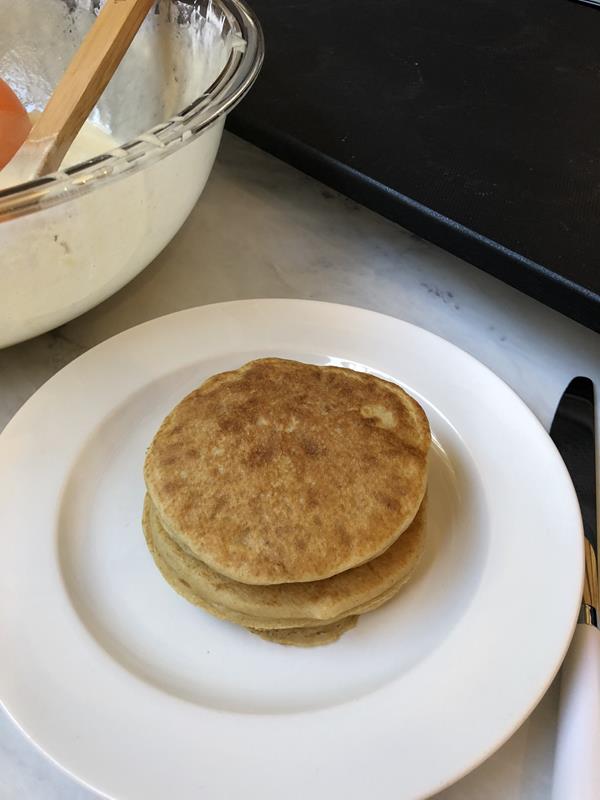 Gluten Free Dairy Free Pancakes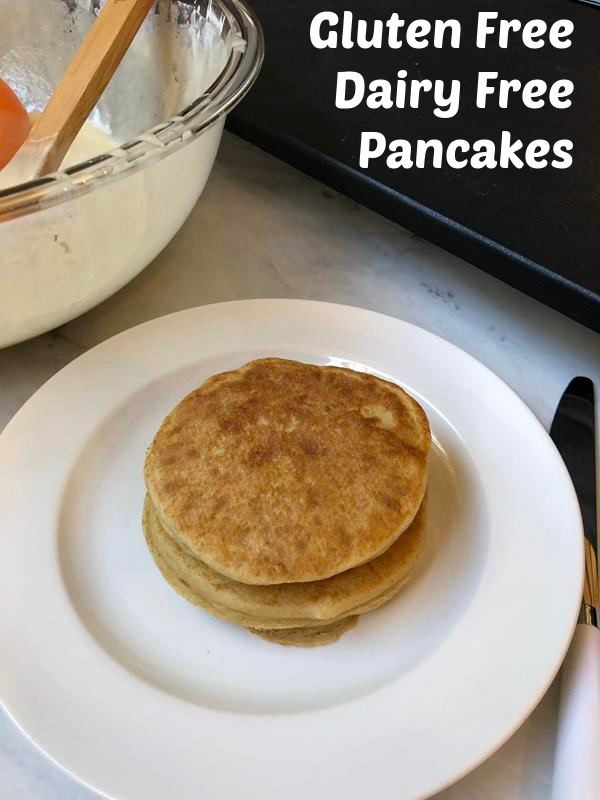 An easy and delicious recipe for gluten free dairy free pancakes.
Additional Time
8 hours
6 seconds
Total Time
8 hours
15 minutes
6 seconds
Ingredients
Make Ahead of Time
1 1/2 cups white or brown rice flour
1/2 cup potato starch
1/3 cup tapioca starch
2 cups water
1 tablespoon of yeast
When Ready To Cook
2 eggs
1 teaspoon baking soda
1 teaspoon salt
1 tablespoon sugar
1/2 teaspoon xanthan gum ( you don't have to add this but I think is better with it)
2 tablespoons oil
Instructions
The night before, or 6- 8 hours ahead of time:
In a glass, plastic, or stoneware bowl, (Use anything but metal because it rises better in a nonmetal bowl) mix together rice flour, potato starch, tapioca starch, water, and yeast. Stir to combine well. ( You can use Bob's Red Mill 1 to 1 Gluten Free Flour blend in place of individual gf flour)
Cover and let sit overnight on the counter. You do not need to refrigerate the batter just leave out on the counter to rise.
In the morning:
Add eggs, baking soda, salt, sugar, xanthan gum, and oil to the batter and stir to combine. (If using a gf flour blend do not add the xanthan gum if the blend already contains it.)
Lightly grease a griddle or pan and heat to a medium high heat.
Pour about 1/4 cup batter for each pancake, or desired size, onto hot griddle or pan.
Cook until surface is bubbly. Turn pancakes over and cook on remaining side until golden brown.
Notes
This can be made using a gluten free flour blend. I have used Bob's Red Mill 1 to 1 Gluten Free Flour blend and it turns out great. If using a blend that contains xanthan gum do not add the xanthan gum call for in the recipe.