Need an easy five ingredient or less dinner? Crock Pot Pizza Chicken is a delicious four ingredient dinner that your family is sure to love!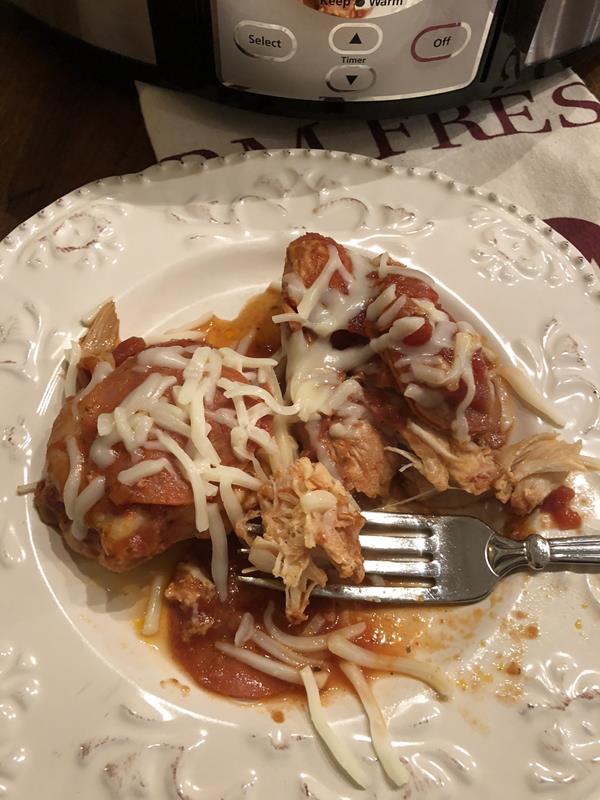 Easy five ingredient or less dinners are some of my favorite recipes to share. I love how quick they are to make and that they almost always use basic ingredients.
One of my family's favorite easy dinners is pizza chicken. Kids love anything that has the word pizza in it. Adults love how easy pizza chicken is to make.
Making pizza chicken in the oven is easy, but sometimes you need a cook while you are gone type of meal. Crock Pot Pizza Chicken is great for a day like that.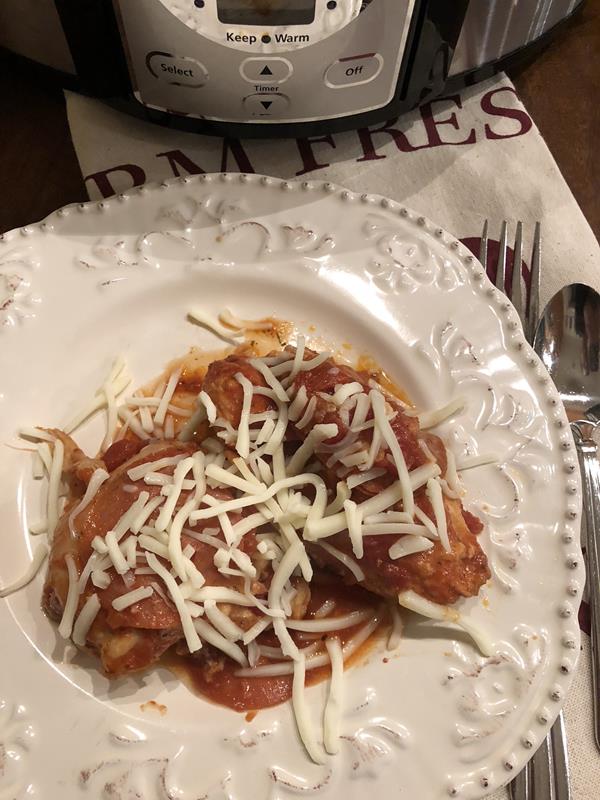 There are all kinds of different versions for Crock Pot Chicken out there. Most of them are simple with the same basic ingredients. The recipes vary when it comes to how you cook the ingredients.
Some recipes have you cook all the ingredients all day. My family doesn't really like it that way. I like to stir in the pepperoni towards the end of cooking and then the cheese when serving it. We like the texture better that way.
Some recipes also have you cooking pasta or rice in the crock pot with the chicken. I am not a huge fan of cooking pasta or rice in the crock pot with other food, so I don't do that either. It goes back to the texture thing. We like it separate.
I will also totally admit that this isn't the prettiest meal that I have made. Most food cooked for hours in the crock pot isn't pretty, but it is delicious!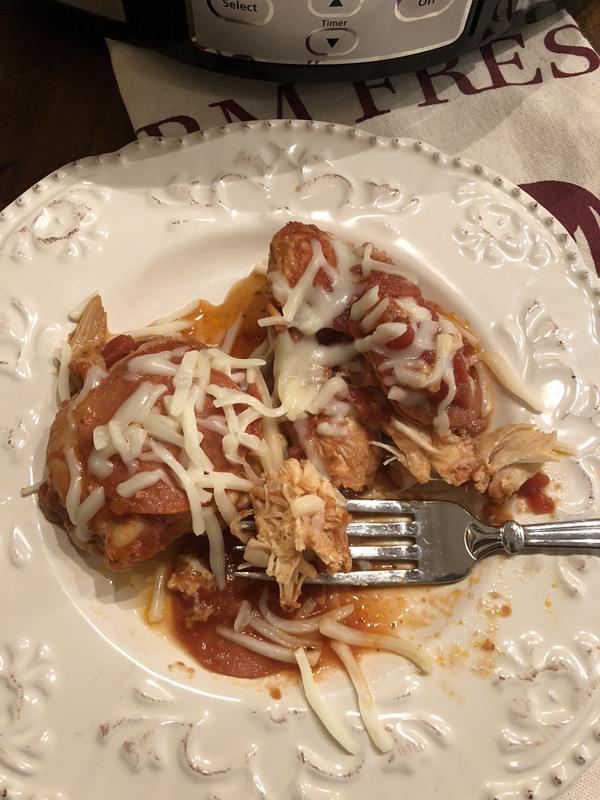 When I make this it varies how I serve it. The day I took the pictures we just ate it as is with a vegetable side dish. But I have also served it over pasta or rice.
Serving it over pasta or rice helps the meal stretch a little more and makes it more filling. Serving it without the pasta or rice makes it more of a low carb or low grain type of meal.
Need more easy chicken recipes? You might enjoy these.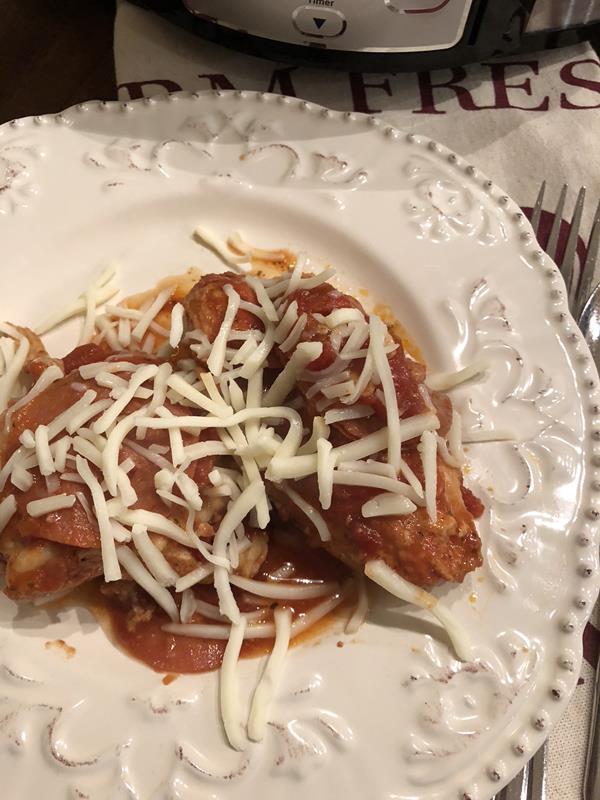 Crock Pot Pizza Chicken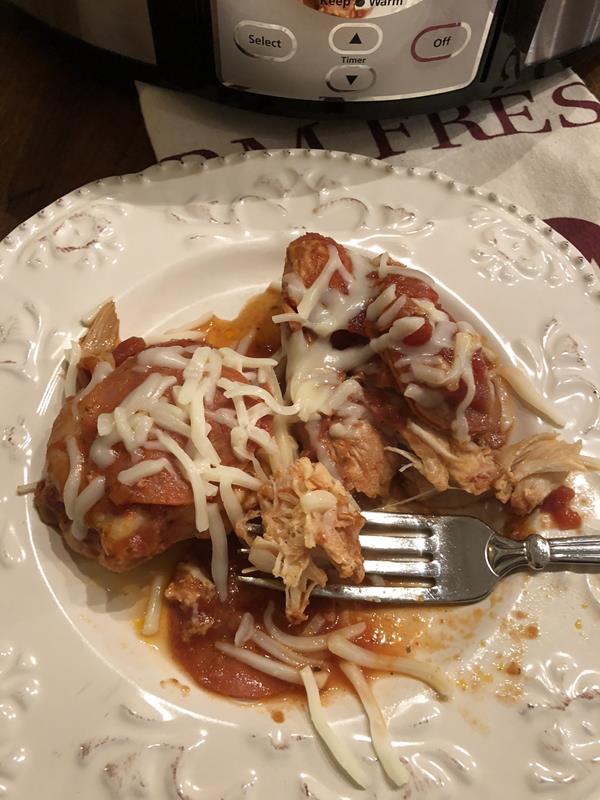 Easy five ingredient or less crock pot meal.
Total Time
5 hours
5 minutes
Ingredients
24 ounces spaghetti or pizza sauce ( You can use a little more or less depending on the size of jar that you have.)
2-3 lbs chicken tenders or boneless skinless chicken breasts cut into strips
4 ounces sliced pepperoni ( I like to use turkey pepperoni)
2 cups shredded mozzarella cheese
Instructions
Place chicken in Crock Pot.
Pour sauce over chicken.
Cook on low for 4-6 hours or until chicken is done. Chicken tenders will take closer to 4 hours and chicken breasts will take closer to 6 depending on the size of the pieces.
About 30 minutes before serving stir pepperoni into the chicken sauce mixture.
Serve with cheese. Can be served over pasta or rice.
Notes
If you are gluten free make sure that your sauce and pepperoni are gluten free.