Scrambled Eggs with Sausage, Peppers, and Onions is a quick and easy breakfast, lunch, or dinner.
Sometimes the simplest meals are the best.
By simple meals, I mean the kind that go together in just a few minutes using basic ingredients from the fridge and pantry.
When people find out the my family deals with food issues and allergies they often ask how we manage it. The answer can get complicated, but the reality it that most of the time I keep it simple with basic real food ingredients.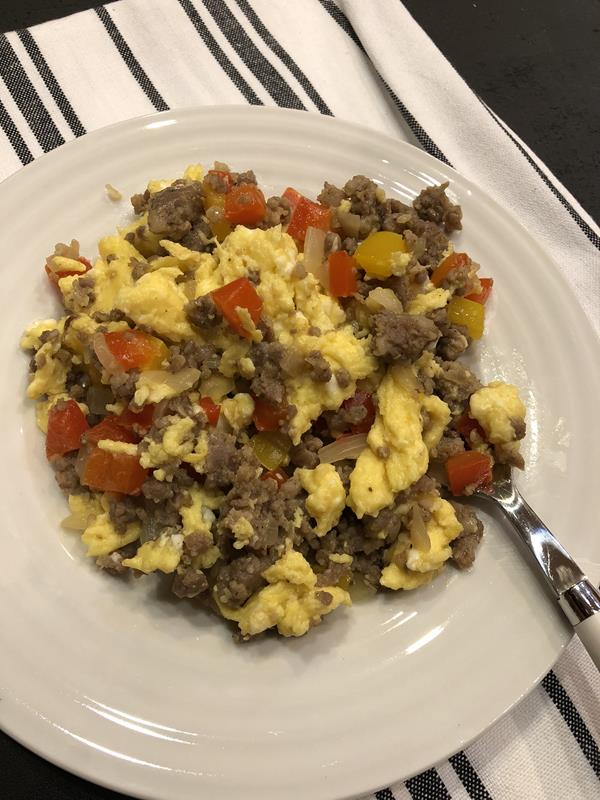 Life in the kitchen, with or without food issues, doesn't have to be complicated.
One of my goals here on this site is to help make life in the kitchen easier for you. I love sharing how food can be quick, easy, and delicious for both those that eat normal and those that deal with gluten free or food allergies.
The best way I know how to keep life in the kitchen simple is to use basic everyday ingredients.
Yes, gluten free and food allergies can be complicated and expensive. Specialty flours and foods are not cheap. Baking when you are gluten free, nut free, or whatever else free, can be challenging. I get that, but the reality is I keep meals simple with very few baked goods most of the time.
Recipes like eggs, sausage, and vegetables, makes life in the kitchen easier and also allows us to keep our food budget lower.
One of the cheapest and easiest sources of protein is eggs. They are easy to buy. They don't cost very much. And they are easy to keep on hand in the fridge.
Ground meats are another quick, easy, and inexpensive protein. Yes, meat can be expensive, but in general ground meat stretches to serve more people than most other types of meat.
Vegetables are not always inexpensive, but you can easily find them on sale or keep them on hand in the freezer.
Another way that I keep meals simple and inexpensive is to make one pot meals. The kind of meal where you can make everything in one pan or pot.
Making everything in one pot or pan keeps both the cooking and the clean up easier.
I also love to make meals that I can have leftovers of for easy breakfasts, lunches, or dinners later one.
This recipe for scrambled eggs with sausage, peppers, and onions is one that I haven't shared before because it is so basic. But it fits all the requirements for one of my go to quick and easy meals and ends up on the menu plan often. I decided it was time to share it with you.
It is easy to make. It uses basic inexpensive ingredients. It can easily be stretched to feed more people by adding a few more ingredients. And it is regular inexpensive everyday food that fits all our family's food needs.
It is something that we eat often because it works for breakfast, lunch, or dinner. The leftovers work well reheated and they also freeze great.
Looking for other inexpensive easy meals? You might enjoy these as well.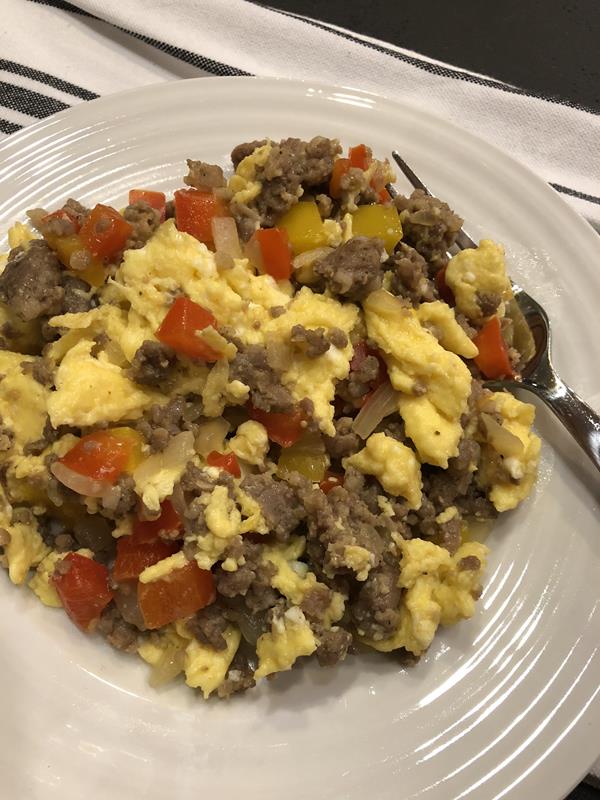 Yield: 8
Scrambled Eggs with Sausage and Vegetables
Quick, easy, and inexpensive recipe that works for breakfast, lunch, or dinner.
Ingredients
12 eggs
1 pound ground breakfast sausage
1 onion, diced
2 bell peppers diced, green, red, yellow, or orange work fine
sliced mushrooms, optional
Instructions
In a large skillet or pan cook sausage, onions, and peppers until sausage is browned and onion and peppers are tender. (If using mushrooms add them into the mixture when cooking.)
Remove meat mixture from pan leaving about 2 tablespoons of grease in the pan for cooking the eggs. .
Crack eggs into a bowl and whisk until scrambled.
Pour eggs into skillet and cook, scrambling until done.
Add meat mixture back to pan and stir to combine.
Serve as is, with cheese, or with tortillas as a burrito filling.