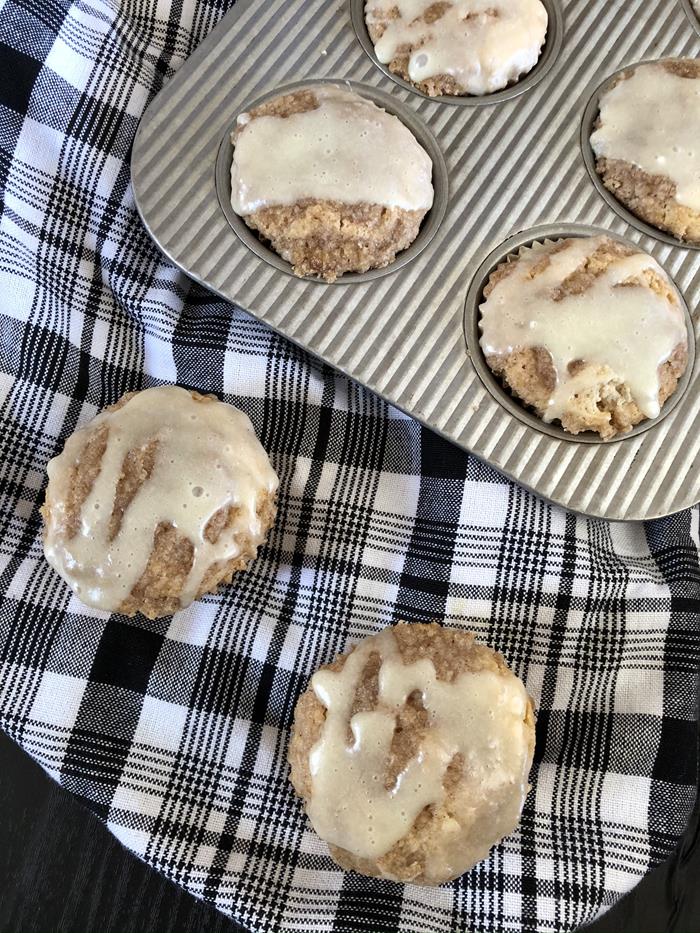 If you love eggnog these gluten free eggnog muffins are a must make! These muffins are so good that no one will know that they are gluten free.
My son loves eggnog. He is the pickiest eater of the family, so his love of eggnog surprises me, but he has loved it since he was a little kid.
He looks forward to every fall when the stores start stocking it.
When we was five or six and we went to the store in January he spent a long time trying to convince a cashier that their store should carry eggnog all year long.
The cashier was not quite sure what to do with my eggnog loving son. She finally told him he could write a letter to the store letting them know.
That letter never got written, but his love for eggnog has continued. He would drink it all year long if stores stocked it.
We recently ended up with a container of eggnog that got buried in the back of the fridge. It was about to expire and I know my son wouldn't drink the whole thing before it went bad. I decided to get creative and see what I could do with it.
I searched online for recipes and came across several muffin recipes that called for eggnog. Since my son also loves muffins I decided to adapt an eggnog muffin recipe to gluten free.
The result was delicious. It worked on the first try. My son and husband both loved the muffins.
We decided that these muffins are best warm. We enjoyed heating up in the microwave for just a few seconds.
If you have some extra eggnog or some eggnog that is about to expire this is a great way to use them up.
If you are not gluten free give this eggnog muffin recipe a try. It is the recipe that I adapted to gluten free.
Can I use a gluten free flour blend in these muffins?
I have not tried it, so I am not sure how it will work. In most muffin recipes I prefer the individual gluten free flours over a blend. You can try it, but for best results I would use the flours I list in the recipe.
Yield: 12 muffins
Gluten Free Eggnog Muffins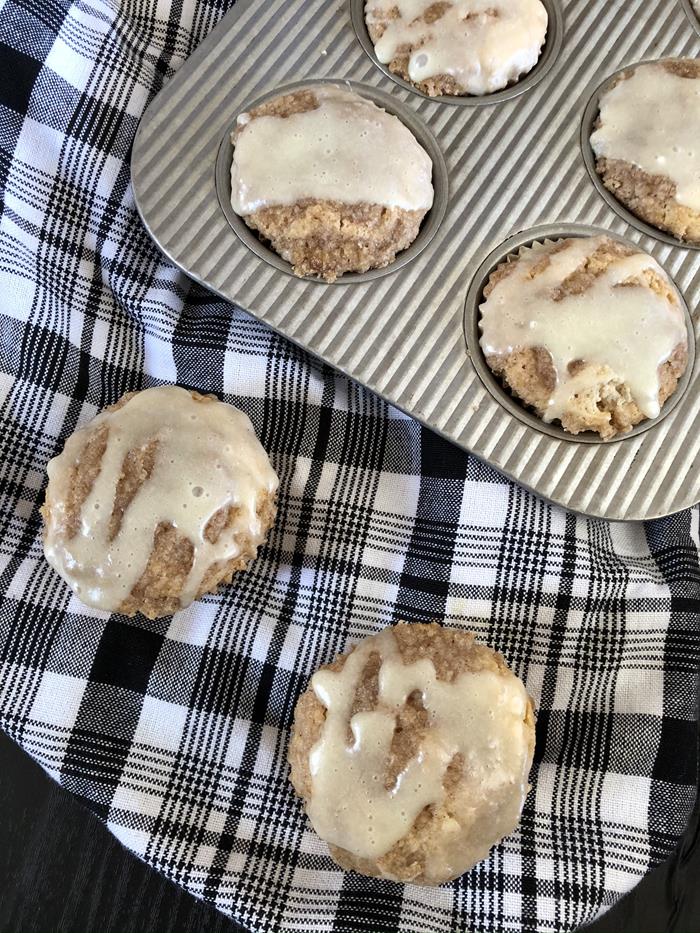 If you love eggnog these are a must make. They are gluten free muffins so good that you will not know they are gluten free.
Ingredients
Streulsel
1/4 cup white rice flour
1/4 cup potato starch
1/2 cup brown sugar
3/4 teaspoon cinnamon
5 tablespoons butter, cut into small pieces
Muffins
1 cup white rice flour
1/2 cup potato starch
1/2 cup tapioca starch
1/2 cup sugar
2 teaspoons baking powder
1 teaspoon ground cinnamon
1/2 teaspoon salt
1 cup eggnog
1 egg
5 tablespoons butter, melted
1 teaspoon vanilla extract
Glaze
1 cup powdered sugar
4 tablespoons eggnog
Instructions
Preheat oven to 350 degrees.
Line a muffin tin with liners or grease well.
For the streusel topping combine rice flour, potato starch, brown sugar, and cinnamon in bowl. Add butter and cut in using two forks until the mixture is like coarse crumbs. Set mixture aside.
For the muffins. In a large bowl combine rice flour, potato starch, tapioca starch, sugar, baking powder, cinnamon, and salt. Set aside.
In another bowl combine eggnog, egg, melted butter, and vanilla. Stir to combine well.
Stir the liquid mixture into the flour mixture. Stir just until well combined.
Scoop batter into muffin cups filling each cup about 2/3 full.
Sprinkle streusel topping over batter dividing evenly between the twelve muffins.
Bake for 18-20 minutes or until toothpick inserted into muffin comes out clean.
Let cool in pan for a few minutes. Then remove to wire rack to cool.
Once muffins are cool mix glaze ingredients in a bowl and whisk until smooth. Drizzle over muffins.