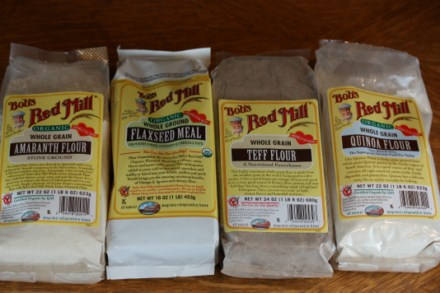 Gluten free cooking involves a lot of new, and sometimes strange, ingredients. Since going gluten free, my kitchen has totally changed. Not only did the gluten go out, but many new items came in.
Before going gluten free quinoa, teft, xanthan gum, guar gum, and many more items were ingredients that I had heard of, but really had no idea what they were. And I certainly did not know what to do with them when it came to cooking and baking.
Instead of being overwhelmed with all these new ingredients, I have tried to use them as a learning experience. Now, don't get me wrong, there have been many times I am overwhelmed and frustrated with gluten free cooking, but I try hard to focus on the positive and on how to figure it all out.
Several years ago I really developed a love for the science behind food. The how's and why's things worked in cooking started to fascinate me. And this came in very useful when I began cooking and baking gluten free.
Many of the emails and comments that I receive from all of you deal with the overwhelmed, I don't know what to do, or where to start, problem. And I hope to help you with that with this new series.
My goal with this new series is to provide basic facts about some of the ingredients used in gluten free baking and to provide a few recipes or ideas that use the ingredients that I feature each week.
So, be sure to come back every Wednesday starting next week for Gluten Free Food Facts.
I hope this series is one that you will enjoy and find helpful as you navigate your gluten free kitchen.