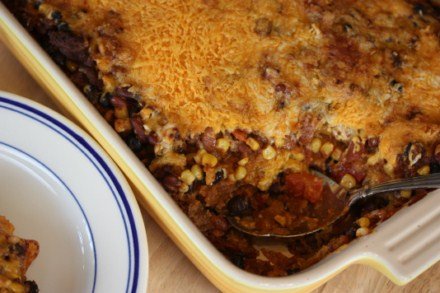 I know you all love quick and easy dinners that are kid friendly. This spicy nacho cheese bake is just that. It is one of those quick and easy meals that everyone will love.
Don't let the spicy part scare you, this is slightly spicy, but not overly spicy.
This recipe is similar to a different casserole that I make, but this one contains a few different ingredients since we like to change things up when it comes to meal time.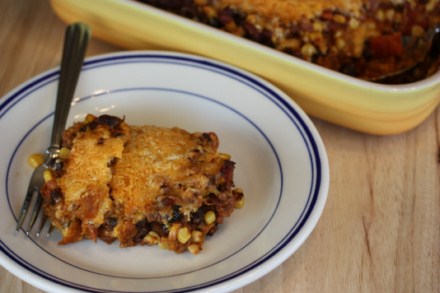 Spicy Nacho Cheese Bake
1 lb ground beef
1- 28 ounce diced tomatoes
1-16 ounce can chili beans ( If you are gluten free, be sure they are gluten free, not all are. Bush's Beans Chili Beans are gluten free.)
1- 15 ounce can black beans, rinsed and drained
1- 11 once can corn, drained
1- 8 ounce can tomato sauce
1 package taco seasoning- or use homemade taco seasoning
13 ounces nacho cheese tortilla chips, slightly crushed (If you are gluten free be sure to read labels for gluten free ones.)
 2 cups shredded cheddar cheese
Cook beef until browned and no longer pink. Drain off any fat.
Stir in tomatoes, beans, corn, tomato sauce, and taco seasoning. Bring to a boil and then reduce heat to low. Cook uncovered about 20 minutes.
Layer about 1/3 of the chips on the bottom of a 9×13 pan.
Spread about 1/3 of the meat mixture on top and about 1/3 of the cheese.
Repeat layers 2 more times, ending with the cheese.
Bake uncovered, at 350 degrees, for 20 minutes.
Serve and enjoy!
Adapted from Taste Of Home