Gluten free eating can be overwhelming, time consuming, and expensive, but it does not have to be. It can be quick, easy, and delicious.
When I first went gluten free I thought I would have to find all kinds of special foods and in some ways I did, but I often overlooked food that was naturally gluten free or easy to adapt to be gluten free.
There were many foods and recipes I had been making for years that my family loved and that could be made gluten free simply by reading labels and using items like gluten free pasta.
One of the most common emails I get regarding gluten free is from readers that are overwhelmed. They are overwhelmed with what they can't eat and at how expensive gluten free eating can be. They are overwhelmed with trying to find foods their whole family will enjoy. I know how that feels. I felt that way when I first went gluten free and I still have days where I feel that way. Gluten free eating can be a challenge.
Over the last few years I have found ways to serve my family gluten free food that tastes good and doesn't break the budget. It can be done and I want to help you do the same for your family.
Over the next few months I plan to share quick and easy gluten free dinners that don't cost a fortune to feed your family. Some of the recipes will be new ones, some will be ones from my archives that I rework to make gluten free specific, and some will be recipes from around that web that I highlight.
I hope this will be a series that you all will enjoy and that will make your life in the kitchen easier.
Today I am starting the series by sharing Gluten Free One Pot Spaghetti. This recipe is one from my archives that I am reposting here in my allergy section. I updated it making it gluten free it by sharing what I do to make sure it is gluten free and safe for my family.
If you have not tried a one pot spaghetti recipe before, this is a must try. It is a quick and easy gluten free dinner your family will love!
Yield: 6 servings
Gluten Free One Pot Spaghetti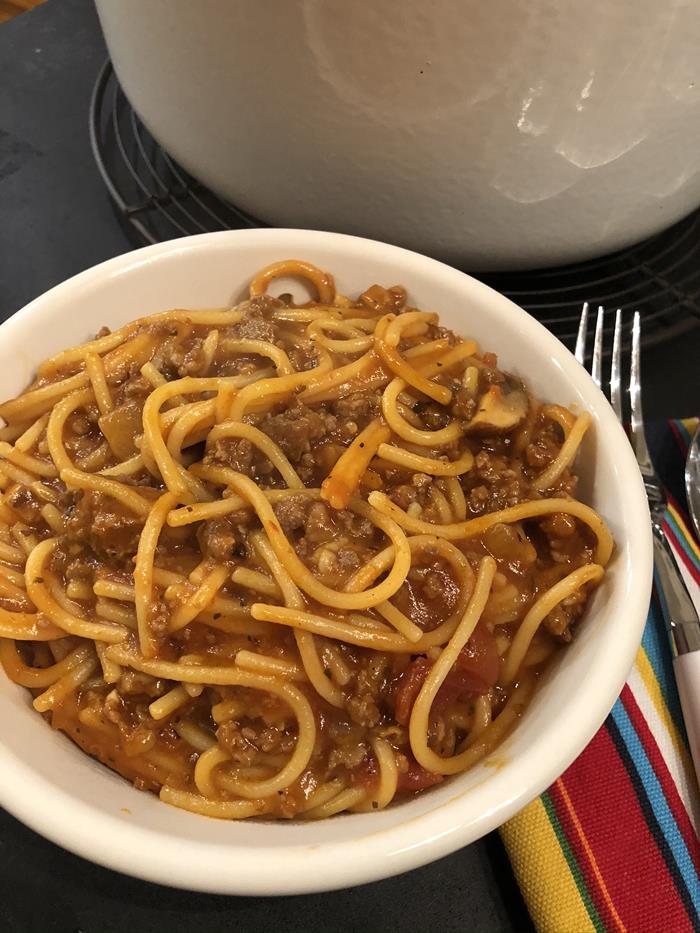 Gluten free dinner made easy with this gluten-free one pot spaghetti.
Ingredients
1 lb ground beef
8 ounce fresh mushrooms, sliced
1 onion, finely diced
1 clove garlic minced
1-14 ounce can gluten free chicken broth ( or homemade)
1 - 26 ounce (or so) jar of spaghetti sauce- Read labels. Most spaghetti sauce is gluten free, but occasionally it is not.
½ cup water
8 ounces uncooked gluten free spaghetti or spaghetti like noodles, broken into pieces
¼ cup grated Parmesan cheese
Instructions
In a large saucepan cook meat and onion until onion is tender and meat is browned.
Drain any fat off and return to the pan.
Add mushrooms and garlic and cook until mushrooms are tender.
Add broth, spaghetti sauce, and water and bring to a boil.
Add noodles and reduce heat.
Cover and cook 17-20 minutes or until noodles are tender. You will need to stir this occasionally and add more water if necessary.
Stir in Parmesan cheese.
Serve and enjoy!
Notes
Be sure to read labels to make sure that your ingredients are gluten free.
Nutrition Information:
Yield:
6
Serving Size:
1
Amount Per Serving:
Calories:

658
Total Fat:

25g
Saturated Fat:

7g
Trans Fat:

1g
Unsaturated Fat:

13g
Cholesterol:

84mg
Sodium:

3013mg
Carbohydrates:

73g
Fiber:

14g
Sugar:

31g
Protein:

35g
Nutritional values are approximate and aren't always accurate.