Gluten Free Overnight Coffee Cake is an easy make ahead breakfast that your whole family will love.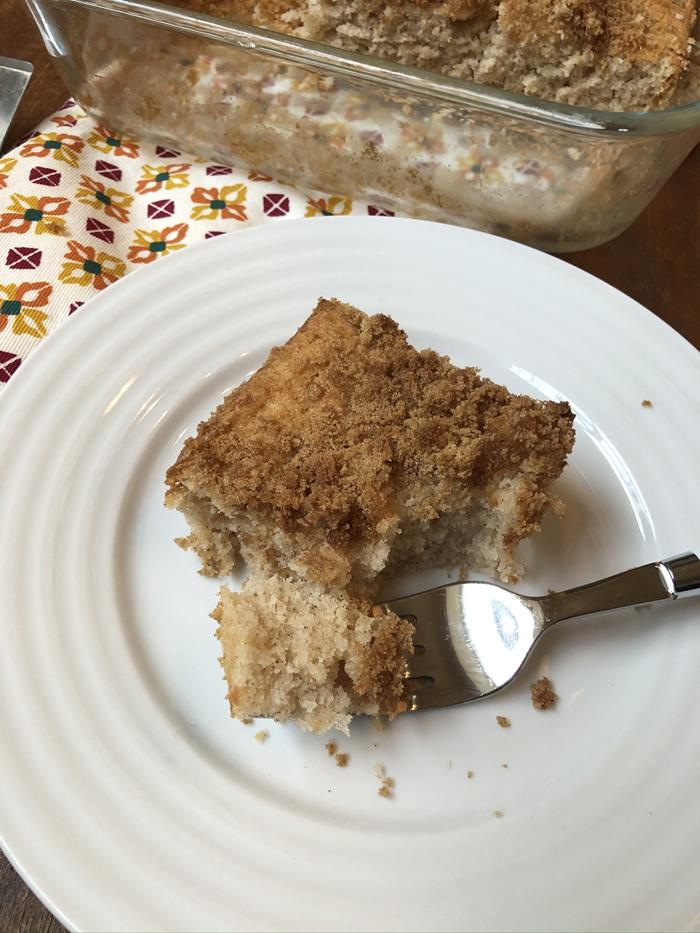 Gluten Free Overnight Coffee was one of the first gluten free recipes that I shared here on my site. I adapted it from one of my favorite recipes, which was for an whole wheat coffee cake, shortly after I went gluten free.
And in case you are wondering before I went gluten free I used to use whole wheat flour all the time. A lot of my older recipes from my first year or two of blogging contained whole wheat.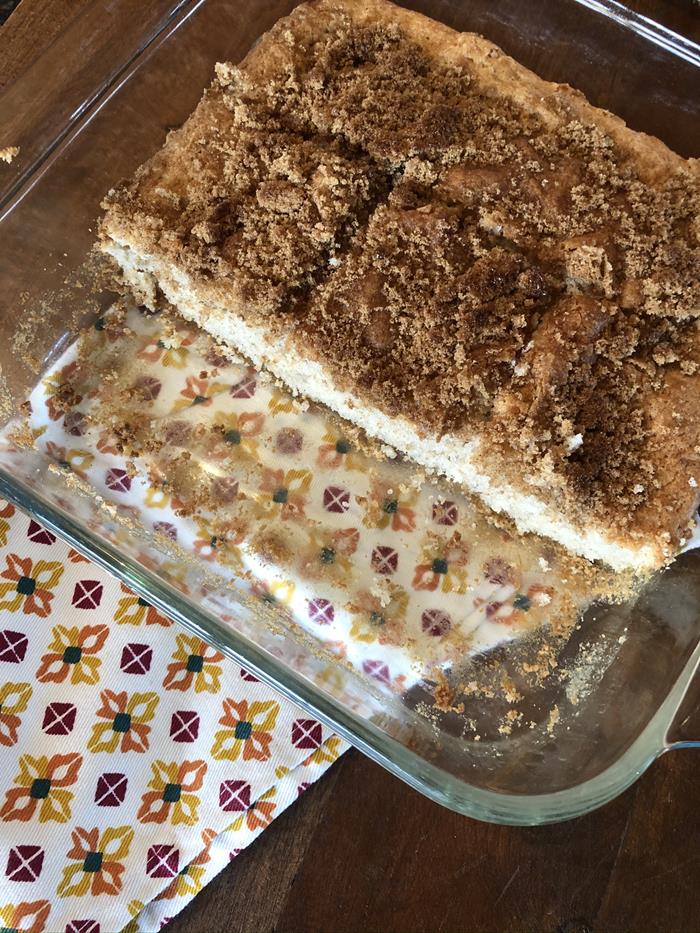 Over the last ten years of being gluten free I have changed the way I cook and bake. The gluten free flours, flour blends, and flour blend ratios that I use now are way different than I used ten years ago.
When I first shared this recipe I was just beginning my gluten free journey. The recipe was good, but over the last ten years I have changed it up quite a bit.
I recently made this for a weekend breakfast and realized that I had never shared the updated gluten free version here on my site.
Coffee cake is a great recipe to serve for a special weekend or for a holiday breakfast, so I knew that I needed to share the updated version of my Gluten Free Overnight Coffee Cake.
What I love about this recipe is that I can make the batter up the night before, refrigerate it, and bake it in the morning. All the work is done the night before, but you still have a hot breakfast in the morning.
You don't have to make this the night before though. You can just make it and bake it. Either way it is a gluten free breakfast that I think your whole family will love.
Can you use a gluten free flour blend in place of the gluten free flours?
Yes, you can but the results may vary. If you don't have the individual flours you can try your favorite gluten free blend, but for the best and most consistent results I think the individual flours work the best.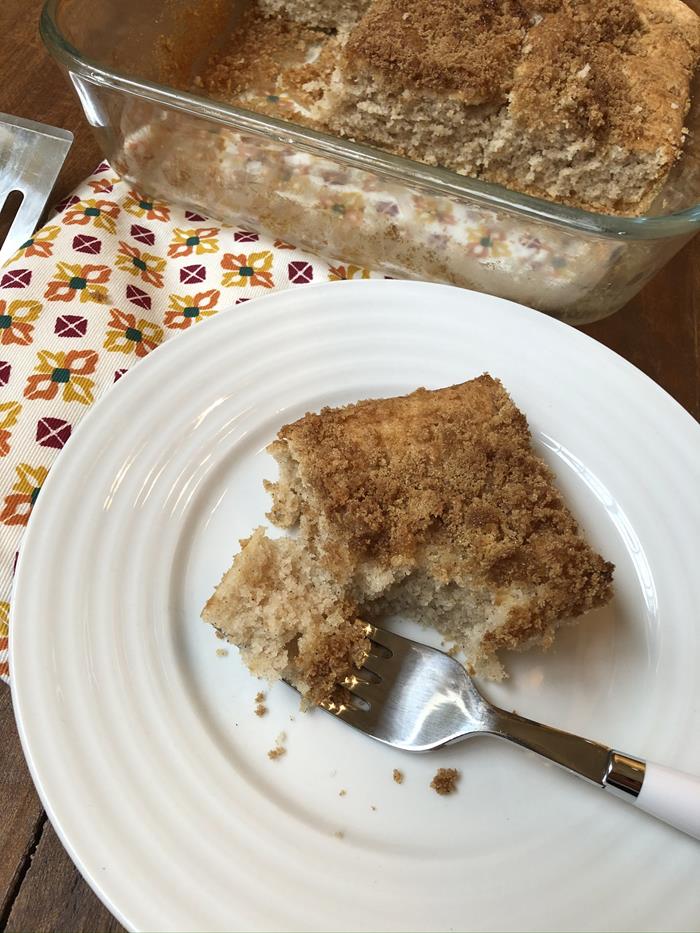 Yield: 12
Gluten Free Overnight Coffee Cake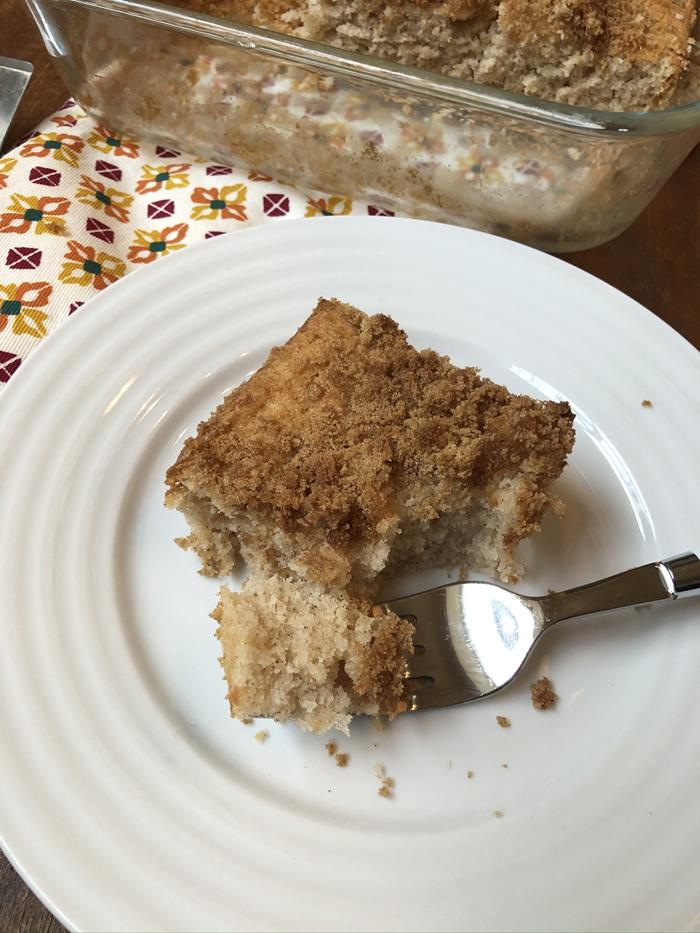 Gluten Free Overnight Coffee Cake is an easy make ahead breakfast that your family will love.

Prep Time 10 minutes

Cook Time 25 minutes

Additional Time 8 hours

Total Time 8 hours 35 minutes
Ingredients
1/3 cup butter, softened
1/2 cup white sugar
1/4 cup packed brown sugar
1 egg
1/2 cup rice flour white rice flour
1/4 cup potato starch
1/4 cup cornstarch
1/4 teaspoon xanthan gum
1/2 teaspoon baking powder
1/2 teaspoon baking soda
1/2 teaspoon ground cinnamon
1/2 cup buttermilk
Topping
1/4 cup packed brown sugar
1/4 teaspoon ground cinnamon
Instructions
Lightly grease an 8 inch square baking pan.
In a large bowl, cream together the butter, white sugar, and 1/4 cup brown sugar.
Beat in the egg until well blended.
In a medium bowl, combine the rice flour, potato starch, cornstarch, xanthan gum, baking powder, baking soda, and 1/2 teaspoon cinnamon. Stir the flour mixture into the creamed mixture alternately with buttermilk. Stir just until well combined.
Spread evenly into the prepared baking pan.
In a small bowl, mix 1/4 cup brown sugar and 1/4 teaspoon cinnamon. Sprinkle over the batter.
Cover, and refrigerate overnight.
The next day, take cake out of the fridge for 30-60 minutes to bring to room temperature.
preheat oven to 350 degrees.
Bake the cake for 30 minutes or until a toothpick inserted in the center comes out clean.
Originally published December 2009. Updated December 2019.