Gluten free can be delicious! If you miss cinnamon rolls since going gluten free these gluten free pumpkin cinnamon rolls are a must make!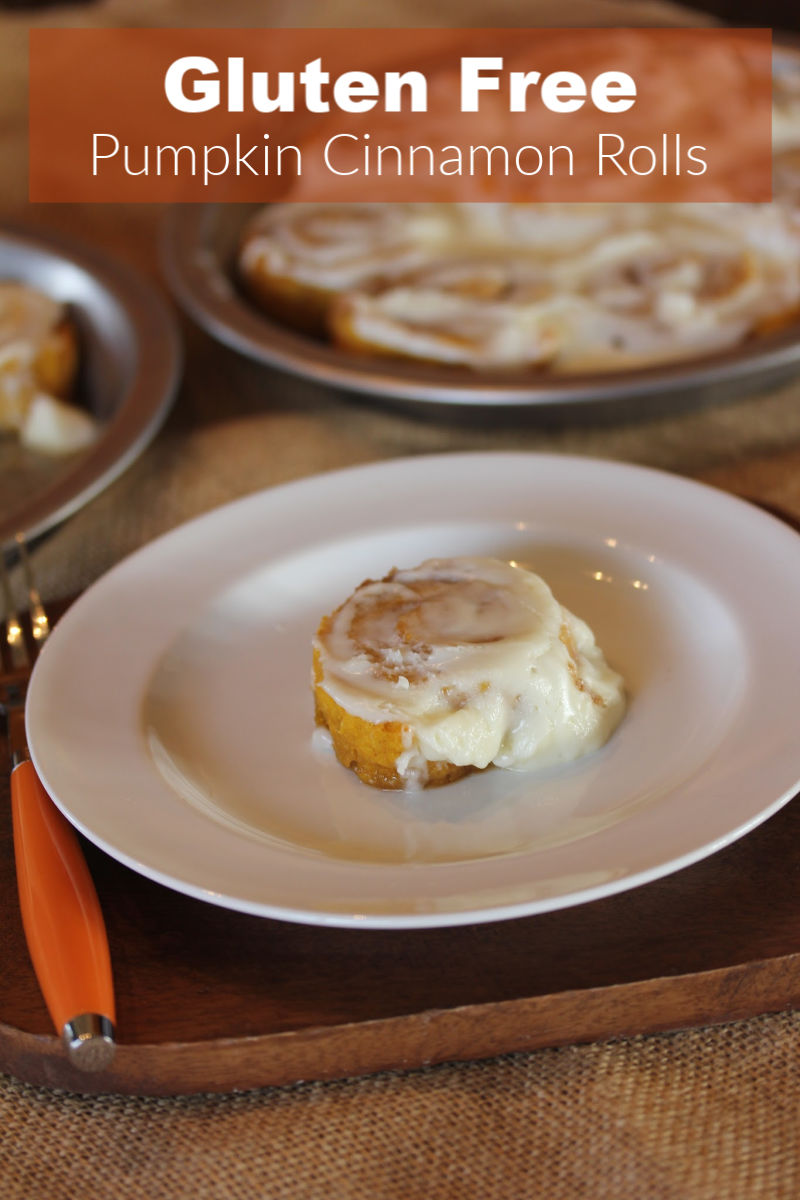 These gluten free pumpkin cinnamon rolls are simply delicious!
They might just be my favorite recipe that I have converted to gluten free. And I will fully admit that I might have cried a few tears of joy after eating my first bite. Yes, I may just have cried a few tears over cinnamon rolls.
I debated on what section of my site to post this recipe. I thought about sharing it only in my gluten free section because I know not all my readers are gluten free. But I do know that many will at least know someone that is gluten free. So, I decided to share the recipe here in my main section. If you are gluten free or know someone that is you will want to bookmark, pin, and forward this recipe. Really this is a must have treat, especially for the holidays.
Homemade cinnamon rolls have been a favorite of mine since I was a kid. Actually, not just homemade cinnamon rolls, but any cinnamon rolls. Homemade, Cinnabon cinnamon rolls, bakery style ones, really just about any type of cinnamon. Homemade ones though are always the best.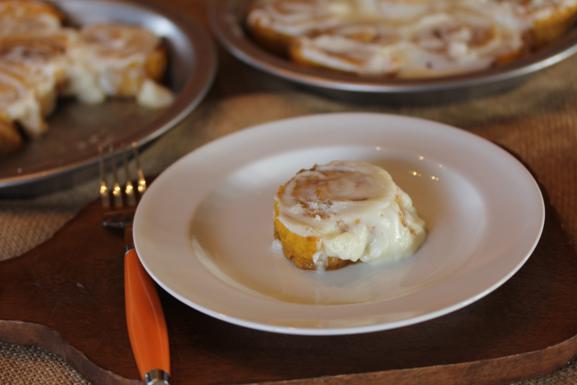 Growing up homemade cinnamon rolls were the only kind we ever ate. I don't ever remember my mom making cinnamon rolls from a can. That just didn't happen. She made them homemade start to finish for holidays, birthdays, special occasions, and sometimes for just an every day treat.
We loved them because they were delicious. My mom loved them not only because they tasted great and she enjoyed baking, but because they were an easy inexpensive treat to serve her family.
It wasn't just my mom's cinnamon rolls that left an impression on me growing up. My best friend's mom also made the best cinnamon rolls. Her cinnamon rolls were made with so much time and care. She was a pastor's wife with six kids. She would make cinnamon rolls for her family, for guests, for meals she took places, and for many church events. She would make large batches of them at a time. Her counters would be covered in cinnamon roll dough and she made it look so easy. She was a great cook, but I think her cinnamon rolls are what I remember most about her cooking.
Now as an adult, with my own family, cinnamon rolls were something I enjoyed making my family. I understand why my mom and my best friend's mom made them so much. They really are a special treat that almost everyone enjoys. And when made with love they taste even better.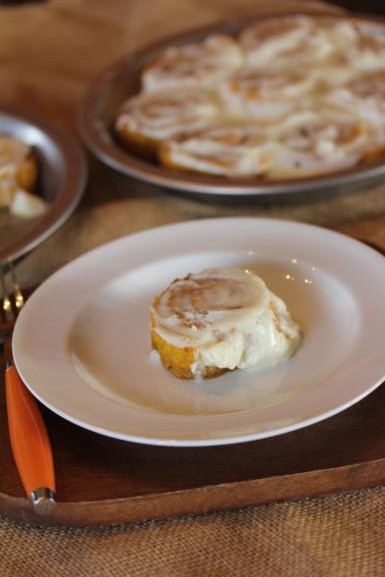 I have never really been intimated with making homemade cinnamon rolls, or even homemade bread dough, because I grew up watching my mom and others make it look so easy. Yeast dough can be intimidated to even the best of cooks, but it doesn't not have to be. Just about anyone can make homemade cinnamon rolls. They really are easy to make.
Because I love cinnamon rolls so much, I have made many of them over the years. They were always a treat I loved to make. That is until I went gluten free……..yes there is more to my love of cinnamon rolls. Over the last five years it has become more of a love to hate relationship with cinnamon rolls.
Cinnamon rolls have definitely been one of the most challenging things for me to get right gluten free. I can't even begin to count how many recipes have ended up in the trash can. Yes they really were that bad. I just could not get them right.
Now I will admit my standards for cinnamon rolls are high. If I had been used to cinnamon rolls in a can, I probably would have been happy with many of the gluten free recipes I tried, but I was not going for a from the can taste. I was going for something similar to the cinnamon rolls I ate growing up and had been making my family for years. I was looking for a duplicate of what I knew and loved. When it comes to gluten free that is not always easy.
It has been over a year since I even attempted a homemade gluten free cinnamon roll. I had pretty much given up. Until this week that is.
My daughter and I love to watch The Pioneer Woman's show on the Food Network. We often record it and watch it together on Saturday evening. On one of the recent episodes we watched she made pumpkin cinnamon rolls. They looked so good. I instantly wanted a cinnamon roll. I knew I had to have one.
I could not stop thinking about homemade cinnamon rolls. But I can't just go out and have one. I need it to be gluten free. So I was inspired to get back to work on gluten free cinnamon rolls. I was determined to get it right this time.
When converting a recipe to gluten free it is important to start with a great recipe. Since Pioneer Woman's recipe looked so good, and her recipes normally turn out great, I decided that this time I would try to recreate her cinnamon rolls to a gluten free version.
Now converting a recipe to gluten free is not always as easy as it sounds. Really at times it is quite challenging, especially when it comes to working with dough. The gluten is what gives dough the right texture. It is what gives the dough elasticity and helps it rise. It gives bread and cinnamon rolls the texture we all love. Recreating that, without gluten, is not an easy thing.
What caught my attention with this recipe from Pioneer Woman was the pumpkin. She calls them pumpkin rolls, but they did not contain that much pumpkin for the amount of rolls they made. I knew they would not have an overwhelming pumpkin flavor, so I was not worried about the pumpkin in the rolls. Plus they would be perfect for the holidays.
I thought that the pumpkin might help the dough. Often times ingredients with strong flavors and high moisture content can really make a difference in gluten free baking. The extra flavor and moisture pairs well with the gluten free flours and helps the texture and taste in the end result.
I started by using some of my favorite gluten free flours. I did not use a blend with these, and I am not sure they would turn out the same if you did. I think this one really does need the individual flours to get the best taste and texture.
The next thing I got to work on was the xanthan gum. Xanthan gum helps duplicate the texture gluten gives bread, so I knew I could not skip on the gum part of this. I ended up using more gum than many gluten free cinnamon roll recipes call for. And I am glad I did. The texture on these turned out great.
I then had to change up the directions for mixing the dough. The instructions on the original recipe just did not work quite the same with gluten free. So they needed a little tweaking. But it was not hard to figure out since I have worked with so many other gluten free doughs before.
Once I had the dough made, I could tell it was a good dough. It looked pretty close to a regular cinnamon roll dough. I had high hopes at this point. It was a bit of a wet dough though so I knew rolling it out might be a bit of a challenge. Rolling gluten free dough out is almost always a challenge. Ask anyone that has tried it.
I decided that the best way to roll out the dough would be to use my Silpat. I dusted it slightly with a gluten free blend that I had and pressed it slightly out. I was impressed with how it pressed out. I sprinkled the dough with more gluten free flour and got out my rolling pin. Yes, this dough worked well enough that I could use a rolling pin for it. A rare thing with a gluten free dough.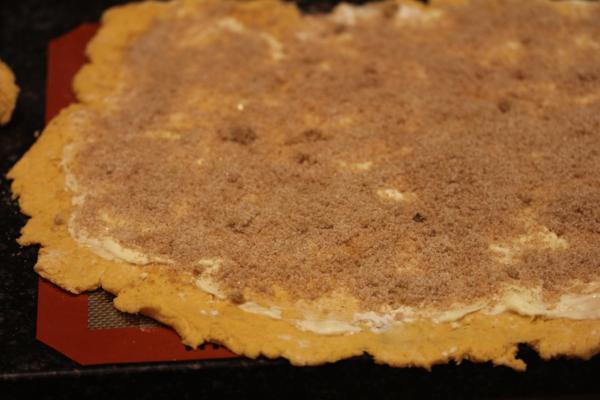 It rolled out great! Well, okay it was still not the same as a regular cinnamon roll dough, but it rolled out better than any gluten free dough I have made. It was soft and much more dough like than others that I have tried. I was not able to roll it quite as thin as I would a gluten filled dough, but I was very impressed with how I was able to roll it out with the rolling pin.
The second time I made these I rolled them out on parchment paper and it also worked fine. You just have to make sure to dust the parchment paper well with gluten free flour or the dough will stick.
I spread the filling on the dough and rolled it up. It rolled up!
Really I could roll this up just like a regular cinnamon roll dough. It took a little extra time and care, and I did have to do some repair work in a few places, but it worked. It really worked.
At this point I really had high hopes for the recipe, but I still knew it would depend on the taste when it came out of the oven.
After I took these out of the oven, I will admit I was a bit disappointed in how they looked. Gluten free doughs don't hold the fat like regular dough, most of the filling ran out of the rolls into the pan. I was very skeptical at this point. How could they taste good without the filling in the roll.
But I was not going to give up at this point and I am glad I didn't. I made the frosting just like Pioneer Woman's recipe said to. Really, the frosting helps make a cinnamon roll what it is, so I was not about to skip this step. These rolls were getting frosted.
I spread the frosting on the rolls and let them cool slightly before trying one. Yes, at this point that was difficult. I wanted one so bad. But letting them cool slightly, I would say 20-30 minutes, is the trick to solving the filling running out issue.
As the rolls cooled the filling absorbed back into the dough. The rolls absorbed what had come out into the bottom of the pan, so you still got the taste and texture of the filling. It was not swirled throughout the dough quite like a cinnamon roll, but it was still there.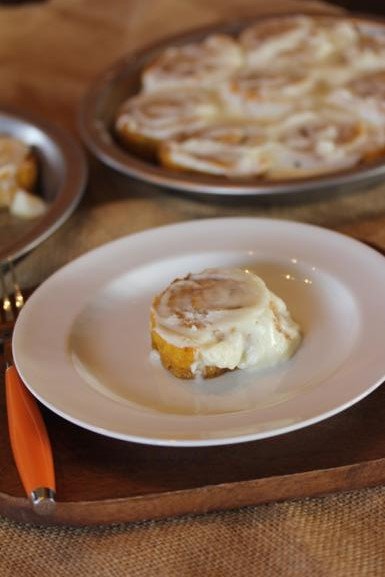 When I took my first bite I will totally admit to crying. Yes, standing in my kitchen, eating a gluten free cinnamon roll, I cried a few tears of joy. It was by far the best cinnamon roll I had tasted since going gluten free over five years ago. It was the closest to the real thing I have had. It was so good!
And my family agreed. They all loved these. Even my husband and son who have eaten a real gluten filled cinnamon roll recently loved it. You always know that a gluten free recipe is good when a non gluten free person enjoys it.
These cinnamon rolls also tasted great the next day and the day after that. We ate these for three days and they still tasted great. We preferred the leftovers warm, but they were delicious!
I made a second batch yesterday, so that I could put some in the freezer and give a few to some gluten free friends. Yes, they were so good that I made them twice in once week. Yes, I am a little excited about this recipe.
A few notes though for those wanting to give these a try. I used all Bob's Red Mill products for the gf flours and xanthan gums. Sometimes brands make a difference in gluten free recipes, so I wanted to be sure to let you know what brand I used.
Also, this recipe is not hard to make, especially if you have worked with yeast dough before. I am not sure I would consider this a beginner recipe though. I don't want to discourage anyone from trying it because it is so good, but it does have quite a few ingredients and steps, so keep that in mind.
Now go make yourself some gluten free cinnamon rolls. I know you want one!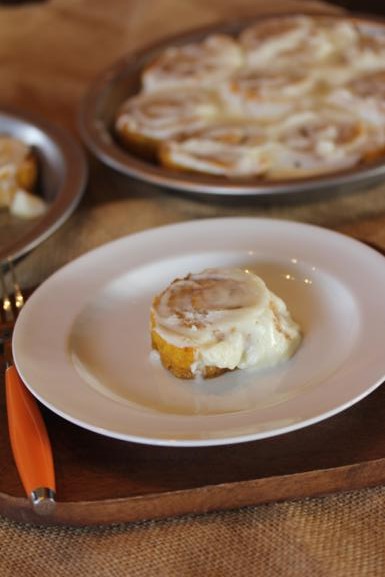 Gluten Free Pumpkin Cinnamon Rolls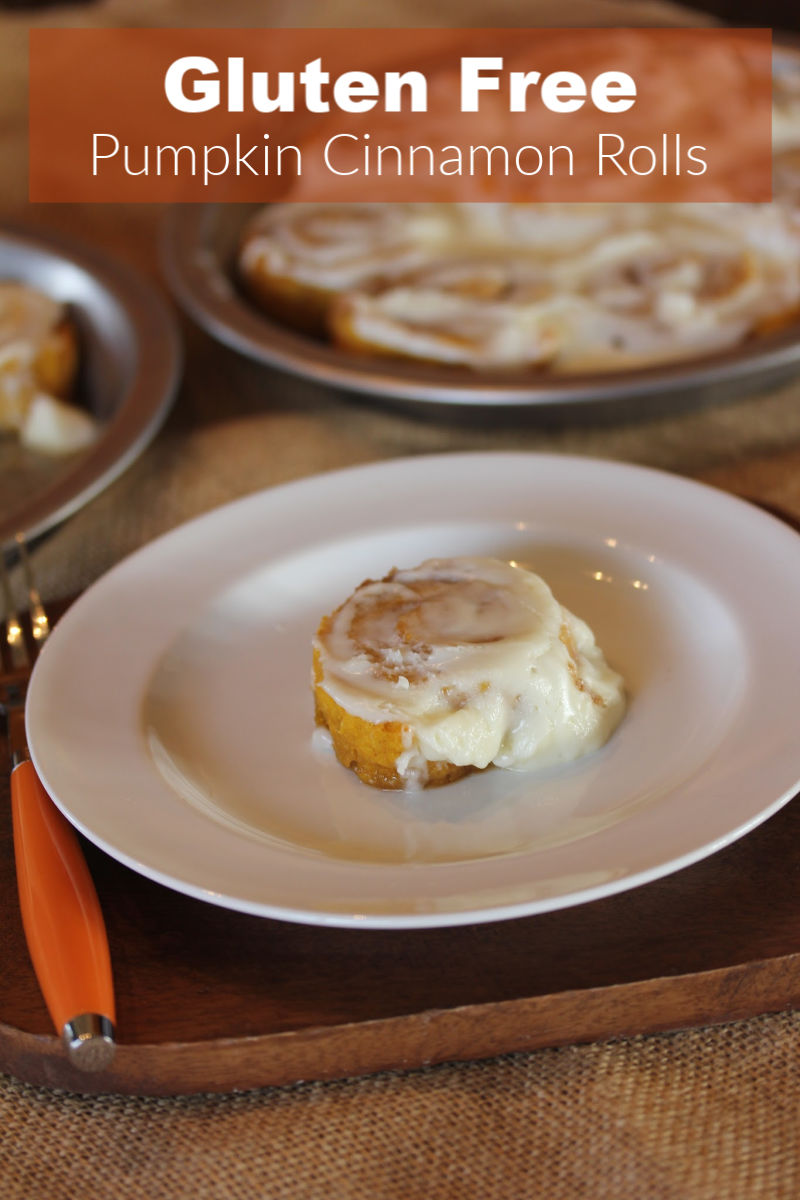 Gluten free can be delicious! If you miss cinnamon rolls these gluten free pumpkin cinnamon rolls are a must make.
Total Time
2 hours
48 minutes
Ingredients
1 1/2 cups milk
1/2 cup oil
1/2 cup sugar
1 package active dry yeast
1 cup canned pumpkin (not pie filling)
1 1/2 cups rice flour
1 1/4 cups brown rice flour
1 cup potato starch
1/2 cup tapioca starch
2 1/2 tablespoons xanthan gum
1/2 teaspoon cinnamon
1/4 teaspoon nutmeg ( optional)
1/4 teaspoon ground ginger
1/2 teaspoon baking soda
1/2 teaspoon baking powder
Filling
1/2 cup butter, softened
1/2 cup sugar
1/2 cup brown sugar
1/2 teaspoon cinnamon
1/4 teaspoon nutmeg (optional)
1/2 teaspoons ginger
Frosting
8 ounces cream cheese softened
2 cups powdered sugar
1/4 cup milk
2 tablespoons butter, melted
dash of salt
additional gluten free flour for rolling out
Instructions
For the dough
In a saucepan heat milk, oil, and sugar. Heat until hot, but not boiling.
Remove from heat and let cool to warm. (About 110 degrees)
Sprinkle yeast in a mixing bowl and pour warm milk mixture on top.
Stir and let sit for 5 minutes.
Add in pumpkin and mix well.
In a bowl combine rice flours, potato starch, tapioca starch, xanthan gum, cinnamon, nutmeg, and ginger.
Set aside 1/2 cup of flour mixture for use later on.
Add remaining flour mixture to liquid mixture. Mix until a dough forms. The dough will be a wet dough and will take 3-5 minutes of mixing.
Scrape down the sides of the bowl a few times while mixing to incorporate all the flour mixture into the dough.
Once mixed well cover the mixing bowl with a towel and let dough rise for 1 hour.
After 1 hour stir in remaining 1/2 cup of flour, baking soda, and baking soda into dough. Mix well to combine completely.
Divide dough in half and place one half on a silpat mat that has been dusted with gluten free flour. (Parchment paper also works for rolling the dough out on, just dust well with gf flour)
Dust the top of the dough and roll out carefully in a rectangle about 16×12, dusting with more gluten free flour as needed.
Spread half of softened butter on the dough.
In a bowl combine the remaining filling ingredients and sprinkle half of it over the butter.
Using your fingers roll dough towards you into a roll. You may need to do some minor repair work when rolling it. Once rolled seal the edge by pinching dough.
Slice into 1/2 to 3/4 inch slices.
Place rolls in pie pans.
Repeat with remaining dough.
This makes 3 pie pans full of rolls.
Let rise for 20 minutes.
Bake at 375 for 16-18 minutes.
While rolls are baking combine frosting ingredients into a mixing bowl and beat until fluffy. This will take several minutes.
Spread frosting over rolls as soon as rolls come out of the oven.
Let rolls sit for 20-30 minutes.
Eat and enjoy!
For freezing wrap rolls well and freeze. Warm in microwave for reheating.