Gluten free can and should taste good! These gluten free pumpkin doughnut muffins are so good you will not know they are gluten free!
Gluten free can be quick, easy, and delicious. In fact, I think it should be. Gluten free doesn't have to be complicated. And it can taste great!
These gluten free pumpkin doughnut muffins are an example of that. They are so easy to make and they are so good that you will not be able to tell they are gluten free!
Don't those look good!
These are a cake like baked doughnut. They are not a fried doughnut, but they are delicious!
Doughnuts are one of the things that I miss the most since going gluten free. I have been gluten free since 2009 and sometimes I still long for a really good fresh from the bakery doughnut.
When those cravings happen I bake up a batch of homemade gluten free doughnuts or homemade gluten free doughnut muffins.
Homemade ones aren't quite the same, but they are so good that they satisfy my doughnut craving.
Kids also love these because they are kind of like eating doughnut holes. These are made in a mini muffin tin so they are the perfect bite sized gluten free treat.
If you do not have a mini muffin pan you can easily make these in a regular muffin pan. I put the instructions for them in the recipe below.
I like to dip these in a butter and cinnamon sugar topping. I think it gives them more of a true doughnut taste and texture. One of my kids prefers them without the cinnamon and sugar though, so I always leave a few without the topping. Feel free to dip them in the topping or leave them plain.
These gluten free pumpkin doughnut muffins are the perfect breakfast treat for the fall and holidays. They would also be a great lunchbox treat or an after school snack. No matter how you serve them, I think you will love them!
Need more gluten free pumpkin recipes? Here are some of our favorite gluten free pumpkin recipes:
Yield: 30 mini muffins
Gluten Free Pumpkin Doughnut Muffins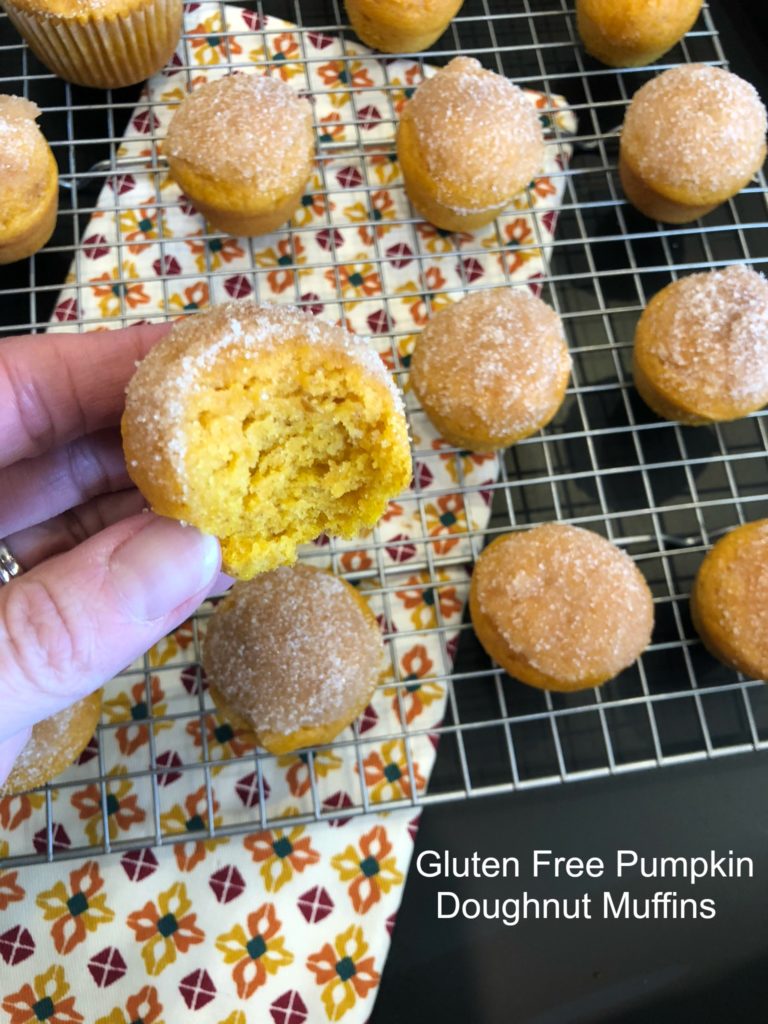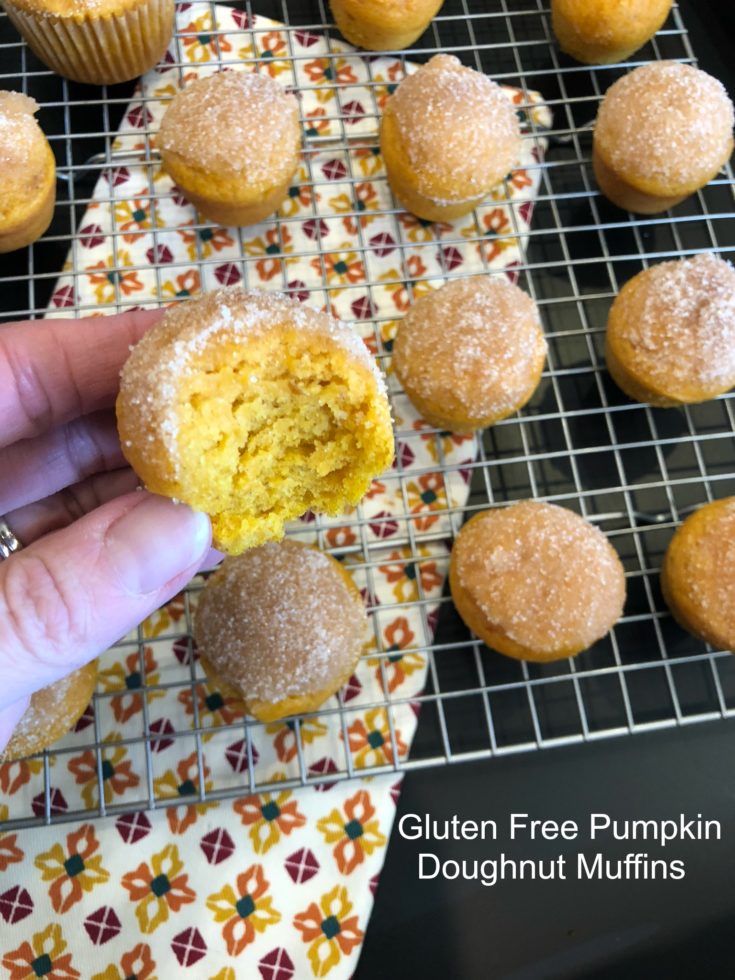 Easy and delicious gluten free treat.
Ingredients
1/2 cup oil
3 eggs
1 1/2 cups sugar
1- 15 ounce can of pumpkin (not pumpkin pie filling)
3/4 teaspoon ground cinnamon
1/4 teaspoon ground ginger
1 1/2 teaspoon salt
1 1/2 teaspoon baking powder
1 1/3 cup white rice flour
1/3 cup potato starch
1/3 cup cornstarch
1/2 teaspoon xanthan gum
Instructions
Preheat oven to 350 degrees.
Lightly grease mini muffin pan and set aside.
In a bowl beat together oil, eggs, sugar, pumpkin, spices, salt, and baking powder. Mix until smooth.
Add rice flour, potato starch, cornstarch, and xanthan gum. Stir just until smooth.
Scoop batter into muffin pan filling each cup about 3/4 full.
Bake for 13-14 minutes or until toothpick inserted into the center comes out clean.
Let sit in pan for several minutes than remove to wire rack to cool.
Optional topping below.
Notes
For cinnamon topping combine 1/2 cup sugar and 1 teaspoon cinnamon in a small bowl. Dip the top of the muffins in melted butter and then dip in the cinnamon sugar mixture.
To make large doughnut muffins make in a regular sized muffin pan and bake for 16-18 minutes.