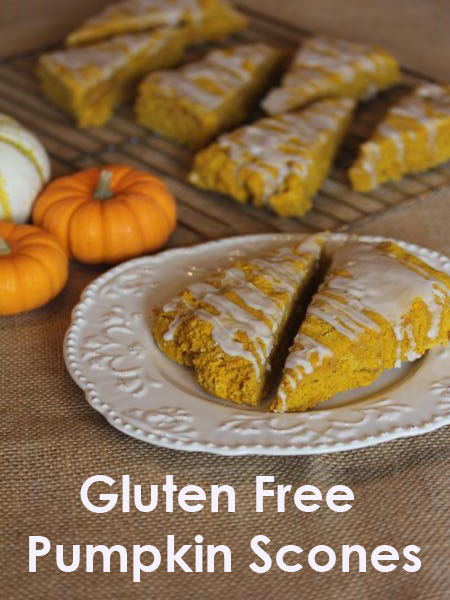 It is pumpkin time of year. That might be obvious though by the amount of pumpkin recipes I have been sharing. Can you all tell that my family loves pumpkin?
If you don't like pumpkin, I am sorry. Really, I am sorry because you are missing out. Pumpkin is so good. And you may have to put up with a few more pumpkin recipes before fall is over.
Pumpkin and gluten free just go together. Pumpkin is so moist and flavorful that is helps cover up some of the flavor and texture issues that you often have with gluten free flours.
These pumpkin scones are a perfect example. My family loves scones for breakfast or really any time of day, but they especially love these pumpkin scones. Often times scones can be on the dry side and these are not. These are moist, flavorful, and delicious!
This makes quite a few, so you may need to half the recipe or freeze them. This made several breakfasts for my family.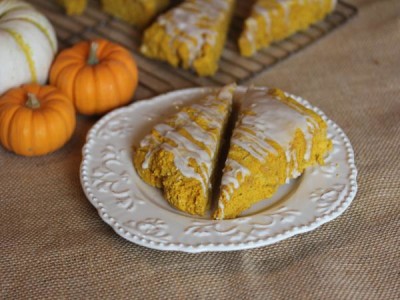 Gluten Free Pumpkin Scones
3 cups brown rice flour
1 cup potato starch
1/2 cup tapioca starch
1/2 teaspoon xanthan gum
1/4 teaspoon cloves
1/4 teaspoon ginger
1 teaspoon cinnamon
1/2 cup brown sugar
4 teaspoons baking powder
1/2 teaspoon baking soda
1/2 teaspoon salt
1 cup butter
2 eggs
1/2 cup milk
1- 15 ounce can pumpkin
Glaze:
2 cups powder sugar
4-5 tablespoons milk
1/4 teaspoon cinnamon
In a bowl combine brown rice flour, potato starch, tapioca starch, xanthan gum, cloves, ginger, brown sugar, baking powder, baking soda, and salt.
Cut in butter until butter is pea sized or small and resembles coarse crumbs.
In separate bowl combine pumpkin, eggs, and milk. Slowly stir into butter/flour mixture and stir just until moistened.
Press dough onto greased cookie sheet. You may need to put some rice flour on your hands to press this out.
Cut dough into wedges or squares.
Bake at 400 degrees for 15 minutes.
While scones are baking combine glaze ingredients in a small bowl.
When scones are done remove from oven and drizzle about half of the glaze on top of the scones.
Let sit for about 1 hour and drizzle with remaining glaze. You want to do the glaze in two steps. The first one soaks into the hot scones and the second one will glaze just the top and be more like an icing.