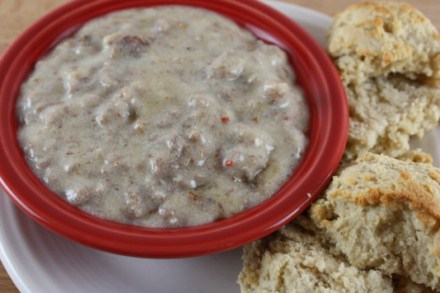 My family loves biscuits and gravy. They have missed them since I went gluten free.
Honestly, I can do without them. I will eat them, and I made them because my family loves them, but they are certainly not on my top list of things I miss.
However, since my family has told me several times in the last few months how much they missed biscuits and gravy, I decided to tackle a gluten free version.
I had not tried to tackle a gluten free version because I have had trouble coming up with a gluten free white sauce or gravy that I was happy with. I know many people just use cornstarch in place of the flour. I had tried that and was not happy with the results. I love cornstarch for things like pudding, but for sauces and gravies I have not been happy with cornstarch.
The main reason is that many times I end up needing to reheat items like gravy or white sauce. I find that cornstarch based sauces do not reheat well. The texture just does not come back together right. So, I got discouraged and kind of gave up for a while on finding one.
However, I recently purchased several gluten free books by Annalise Roberts. In one of her books she mentions using potato starch in white sauces. I immediately knew this was worthy trying.
She did not have a sausage gravy recipe in her book, so I decided to adapt my favorite sausage gravy recipe, using the basic ratios that her sauces used.
My family was so excited that this worked. The gravy turned out well. Even the leftover gravy reheated the next day.
Now, if I can just figure out how to get a light and fluffy gluten free biscuit to go with the gravy.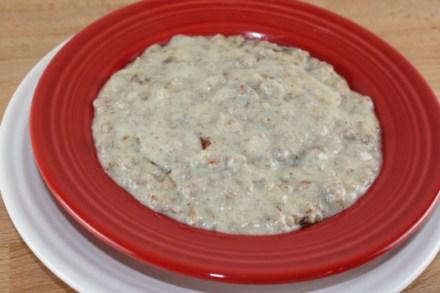 Yield: 6 servings
Gluten Free Sausage Gravy
A classic sausage gravy made gluten free.
Ingredients
1 lb ground sausage (be sure to use gf sausage)
1 tablespoon butter (more if your sausage is really lean)
3 tablespoons potato starch
3 cups milk
salt and pepper to taste
Instructions
Place sausage in a large skillet. Cook over medium-high heat until evenly brown.
Remove sausage with a slotted spoon, leaving the drippings in the pan. Stir in the butter until melted.
Reduce heat to medium and add potato starch. Stir for about 1 minute.
Gradually whisk in milk, and cook until thickened.
Season with salt and pepper, and stir in cooked sausage.
Reduce heat, and simmer for a few more minutes or until it is the desired consistency. If gravy becomes too thick, stir in a little more milk.
Nutrition Information:
Yield:
6
Serving Size:
1
Amount Per Serving:
Calories:

333
Total Fat:

26g
Saturated Fat:

10g
Trans Fat:

0g
Unsaturated Fat:

13g
Cholesterol:

61mg
Sodium:

750mg
Carbohydrates:

12g
Fiber:

0g
Sugar:

7g
Protein:

14g
Nutritional values are approximate and aren't always accurate.