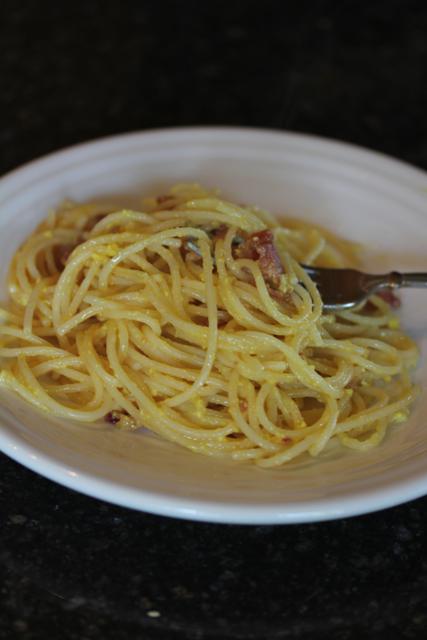 Last week I shared that I was going to start a new series sharing quick and easy gluten free dinner ideas. I am really looking forward to this series and I hope you are too.
I shared one pot spaghetti last week and today I have another simple gluten free pasta dinner idea. Today's recipe, Spaghetti Carbonara, actually only contains five ingredients so it is definitely a quick and easy gluten free dinner.
There are not many gluten free dinners that contain only five ingredients. And the only odd or special ingredient in this is the gluten free pasta, so it is also a budget friendly gluten free dinner.
I love spaghetti carbonara not only because it is quick and easy, but because it is a meal my whole family loves. This is a recipe even non gluten free people will enjoy. I mean really if you cover anything in bacon and cheese even the pickiest eaters will enjoy it.
I have made various versions of this over the years, but my favorite way to cook it is to cook it with some bacon grease. Most spaghetti carbonara contains bacon, so why not use some of the bacon fat to add flavor to the dish. So, this recipe calls for a little bacon grease and a little butter. The combination of the two makes for a dish that is full of flavor.
One quick note. The day I made this and took pictures of it, I was trying to do too many things in the kitchen and over cooked the eggs a little. Your eggs should blend in and be cooked, but not scrambled. Just keeping it real for you. I get distracted in the kitchen also.
Gluten Free Spaghetti Carbonara
Serves 6
12 ounce gluten free pasta- I like spaghetti, but you can use other kinds

1 pound bacon, diced

2 tablespoons butter

3 eggs

1 1/4 cup Parmesan cheese ( the real stuff, not the stuff from the can)
Cook pasta according to directions.

While pasta is cooking, cook bacon in a skillet and cook until crisp. 

Drain bacon leaving about 3 tablespoons bacon grease in the pan. Return bacon to the pan. 

Add butter to bacon and bacon grease and stir until butter is melted. 

In a small bowl whisk eggs and set aside.

Drain pasta and return to pan.

Add bacon mixture, eggs, and cheese to the pasta. 

Stir to coat pasta and cook over low heat for 2-3 minutes. You want to cook the eggs here, but you have to be careful that you do not overcook them 

Serve and enjoy!