Some of you may be thinking prune cake, really you are sharing a prune cake?! But stay with me on this one because it is really good.
When my kids saw me making something with prunes they were a little skeptical. Okay, so they were very skeptical. I got some of those looks that only teen and pre-teen kids can give. But that did not keep me from continuing on, I knew this cake had potential to be a great gluten free cake.
Since my kids were so skeptical they were very surprised to find that they loved this cake. It was so moist and delicious. This is another one of those cakes that you would never know is gluten free.
Spiced prune cake is an old fashioned type dessert and there are many variations out there. This one is a bundt cake version from the Martha Stewart Cakes Cookbook and I knew I had to try it for my gluten free cakes series.
I was pretty sure this cake would adapt well because I knew it would be moist. I thought about trying some healthier gluten free flours with this one, but after the last several recipes not going quite as planned, I decided to stick to the basic gluten free ingredients for this one.
This cake really did not take much tweaking and it turned out delicious the first time I made it, so no more tweaking was necessary.
I did make a few other changes to the recipe besides gluten free ones. The original recipe had 1 cup chopped walnuts in it. I left those out since we can't have nuts, but if you can have nuts, feel free to add them. I think they would be great in this.
I also left out the fresh nutmeg. First of all I did not have any fresh nutmeg. I think dried nutmeg would work fine as well, but my husband does not like nutmeg in anything, so again I left it out. I think 1/2 teaspoon dried nutmeg would be good added to this though.
And the time. The original recipe said to bake this for 1 hour 45 minutes to 2 hours. That seemed way too long for a cake. I don't know that I have ever baked a cake for 2 hrs. I stuck with my instinct on this one and checked the cake at 1 hour 10 minutes. It was not quite done so I put it bake in for a few more minutes and then checked again.
Overall my version took about 75 minutes, so 1 hour 15 minutes. That is what I put for the time, but I suggest keeping an eye on this one to see how it bakes in your oven.
The only dairy in this cake is the buttermilk, so I think you could easily make this dairy free using a dairy free buttermilk substitute.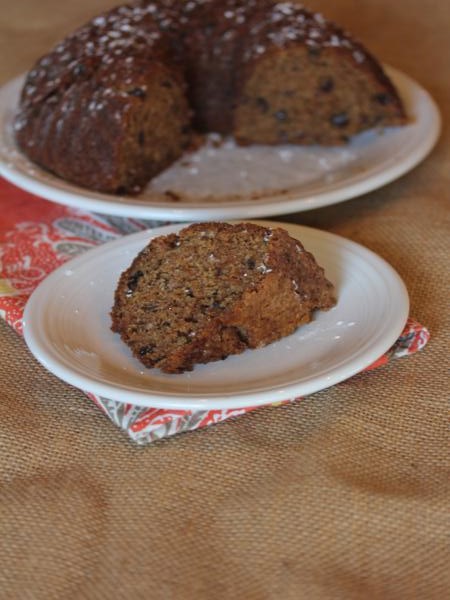 Yield: 12 pieces
Gluten Free Spiced Prune Cake
An old fasioned prune cake made gluten free.
Cook Time
1 hour
15 minutes
Total Time
1 hour
25 minutes
Ingredients
1 1/2 cups rice flour
1/2 cup potato starch
1/4 cup tapioca starch
1/2 teaspoon xanthan gum
1 cup pitted prunes
2 cups sugar
1 teaspoon ground cinnamon
1 teaspoon ground cloves
1 teaspoon salt
1 teaspoon baking soda
1 cup oil
1 cup buttermilk
3 eggs
Instructions
Preheat oven to 325 degrees.
Grease bundt pan and set aside.
In a small pan boil several cups of water. Remove from heat and add prunes. Let soak for 15- 20 minutes or until prunes have softened. Drain prunes and finely chop them. I found it easier to chop them with scissors. Set aside.
Combine rice flour, potato starch, tapioca starch, xanthan gum, sugar, cinnamon, cloves, salt, and baking soda.
In a bowl combine oil, buttermilk, and eggs.
Slowly add flour mixture to wet mixture and stir just until combined.
Stir in prunes.
Spread batter into bundt pan.
Bake for 70-75 minutes. Check cake at one hour and bake additional time if needed or until cake starts to pull slightly away from the pan. This cake is very dense and moist so the toothpick test is hard to do on this one.
Let cake cool in pan for 10 minutes then remove from pan to cool on wire rack.
Nutrition Information:
Yield:
12 servings
Serving Size:
1
Amount Per Serving:
Calories:

466
Total Fat:

20g
Saturated Fat:

2g
Trans Fat:

0g
Unsaturated Fat:

18g
Cholesterol:

47mg
Sodium:

343mg
Carbohydrates:

69g
Fiber:

2g
Sugar:

40g
Protein:

4g
Nutritional values are approximate and aren't always accurate.