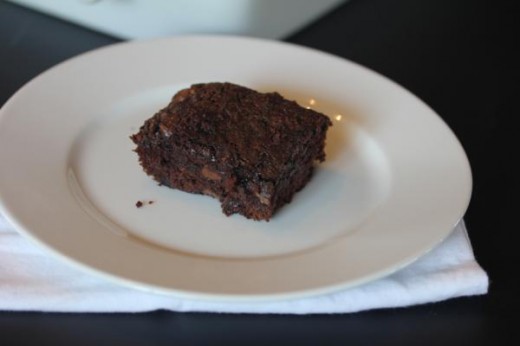 Yes, you read that right. Today I am sharing gluten free zucchini brownies. I know, zucchini in brownies?! But stay with me on this one.
We have had a ton of zucchini coming from our garden lately and I have been using it a lot in things like zucchini pizza, gluten free zucchini cookies, gluten free zucchini cake, and gluten free zucchini muffins. But I wanted to branch out and try some new things using zucchini, so gluten free zucchini brownies it was.
These were really good. They were a healthy like brownie. Not that they are healthy, but they are not a rich and fudgy brownie either. They were good though and a recipe I will make again.
I left these plain, but you could easily frost these for a richer cake like brownie.
Gluten Free Zucchini Brownies
1/2 cup oil

1 1/2 cup white sugar

2 teaspoons vanilla

1 1/2 cups rice flour

1/2 cup potato starch

1/3 cup tapioca flour

1 teaspoon xanthan gum

1/2 cup baking cocoa

1 1/2 teaspoons baking soda

1 teaspoon salt

2 cups shredded zucchini

1 cup chocolate chips
Preheat oven to 350 degrees.

In a large bowl mix together oil, sugar, and vanilla. Beat until well blended.

In a bowl combine rice flour, potato starch, tapioca flour, xanthan gum, cocoa, baking soda, and salt.

Stir dry mixture into sugar mixture until well combined.

Stir in zucchini and chocolate chips.

Spread into a 9×13 pan and bake for 25 minutes.

Let cool and cut into squares.