Yes, I am finally showing you all the end results. Thanks for putting up with the last couple of weeks and the posts leading up to this post about the completed project. If you have not read my other remodel posts you can find them here.
Remember this space before and my tiny kitchen. Let me remind you.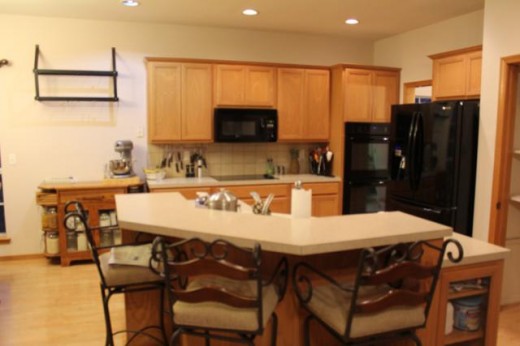 Large wall to the right and crowded kitchen.
Standing in the same place. No wall. Large open kitchen. The old kitchen and old dinning room are now one large open room.
When we first started this project we had no idea if the wall between the kitchen and old formal dining room could be taken down. Or I should say taken down without a huge expense.
So, the day they cut into the wall and told me that it was not a load bearing wall was a happy day for me. I am so happy that we got to take down that wall and open everything up.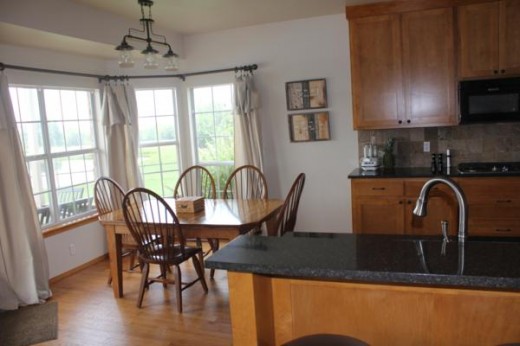 Our kitchen table is actually in the same spot, so we did not lose the view. However, we have so much more room in that spot.
We turned the table so that the back door no longer bumps into the table. Yeah, I forgot to mention that in my post about my old kitchen. The door to the back deck did not open all the way because there was not enough room without hitting the table. Now we have plenty of room for the table and the door to open.
We also have lots of room so that some day if we want to get a larger table, or one that extends out more, we can because we have enough room to do that.
See how much room I have on either side of my kitchen sink. I now have plenty of room for both clean and dirty dishes. Counter space was so lacking in my old kitchen.
One of the many things I love about my new kitchen is the island. We thought ahead and to what we might want someday. See that island at the other end of the kitchen past the fridge? I will show you a close up in a minute.
That island is totally movable. It is heavy, but it can be moved. It is not fixed to the floor. So, someday if we want we can take out the island for another table or we can switch places with the table and the island.
See it would be easy to switch those out and put the island where the table is and the table where the island is.
I know some people wonder why I did that island way down where I did, because it is kind of away from the main kitchen space.
Well sitting at that island you have a great view out the window that was in the old dinning room. I wanted to take advantage of that view.
The kitchen between the new sink and cook top is wide, but not really wide enough for an island. I wanted an island for more counter top and for more seating.
I also wanted an island area separate from the rest of the kitchen so that we had a space for all the gluten filled foods. If you are gluten free or have food allergies, you know what I mean. It is nice to keep regular bread, snacks, cereal, etc in one area. That island is our new area. We store my husband and son's gluten filled food there and they can eat there. No more crumbs in the main part of my kitchen. This is so nice!
So, the island may seem a bit odd to some, but it totally works for us and I LOVE it.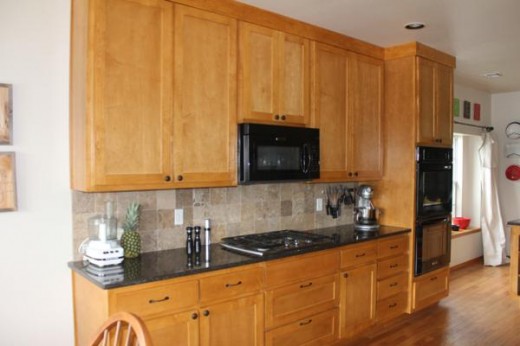 Here is a close up of the cook top area. I love all the counter space I have. And I love my new gas cook top. I am so happy to be cooking on gas again. I also got to keep my double oven which made me very happy.
I also had the cabinets go all the way to the ceiling. Again, I know this is not what a lot of people would do, but I wanted to use all the space I had. A wide space above the cabinets is just a waste of space to me. I wanted to take advantage of that space.
My husband is 6 foot 5 inches. I am 5 foot 10 inches. We are tall. High shelves don't bother us. We have nine foot ceilings and my husband can reach the top shelf without standing on anything. I need a stool or chair to reach the highest shelf, but I can reach the rest of the shelves just fine.
And really I just store extra stuff on that top shelf that I don't need often. I put the platters and dishes we use only a few times a year, food items I buy in bulk, etc. up there. So, it is a great place for extra storage.
If you want extra space, think about taking your cabinets to the ceiling. I love it.
My old kitchen had a pantry, it was very small, but it was still a pantry. In the new kitchen there was not really a spot for a regular type pantry, so I choose to do a wall of cupboards. It is floor to ceiling cupboards, so it is basically a pantry wall and I love it.
Because I had the space I choose to make these cupboards really deep. They are almost as deep as the refrigerator and I am glad I did that. It was worth the extra cost because it holds so much.
And the pull out shelves in the pantry area are so nice. I debated on spending the extra money on this, but I am so glad I did. And I made the space between the shelves on these a little larger so that I could fit tall jars for storing flours, sugar, etc., and for tall boxes like cereal.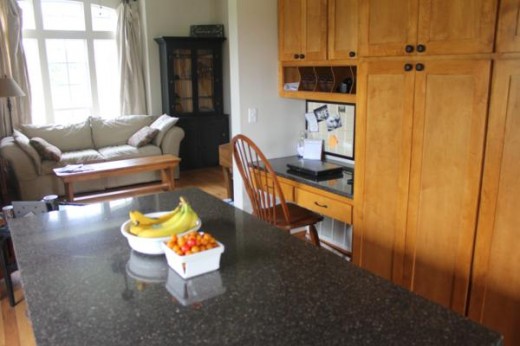 I originally had not planned for a desk area in my kitchen. I have a desk upstairs that I use and I did not feel the need for another one, but a desk was the best use of that space.
I would have loved to continue my wall of cupboards to the end, but there is an intake for our heat and air unit on that wall. You can see it under the desk. Moving that intake was expensive and really there was no convenient place to move it to, so we kept it and put a desk there with cabinets above.
And I am actually finding I like having a desk there. It allows us to have a laptop there that anyone can use and it is in full view of everyone. Which is great with kids. It is also nice when I need to quickly get online for a recipe or takes notes on a recipe.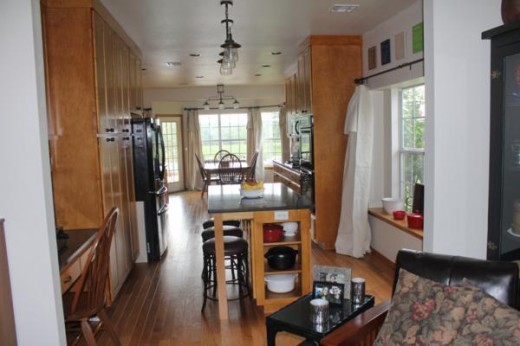 And the last picture is the view from our front living room area. You can see completely from the front to back of the house. I love how open this is. It gives us so much light and space. It also works great for entertaining and having groups of people over.
As you can see I kept the overall kitchen pretty simple. I choose basic colors and kept the decorating simple. It fits our lifestyle and we love the simple and classic look.
I hope you enjoyed the tour of my new kitchen.
If there is something I did not cover, or that you have a question on, feel free to ask and I will try to answer it. It was hard to fit everything in this post, so if you see something you are curious about just let me know.