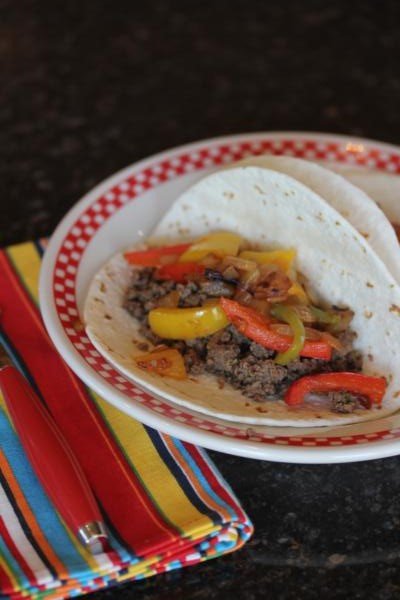 Ground beef fajitas are a quick and easy dinner and a fun way to change up your basic chicken or beef fajitas.
Some of you may be thinking how wrong ground beef fajitas are because they are not authentic fajitas. And you would probably be right. Fajitas in general are made with strips of chicken or beef. But ground beef fajitas are so good that I knew I had to share them even if they are not authentic.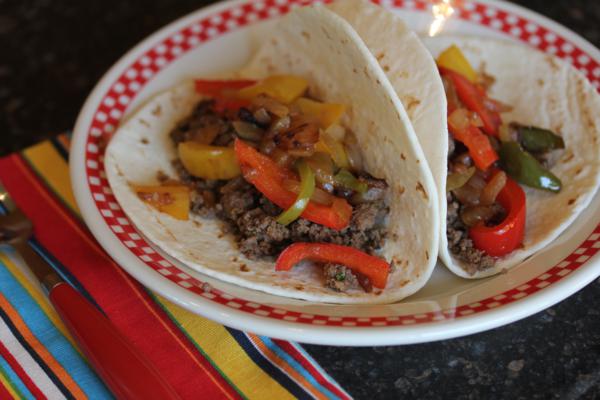 Originally I made ground beef fajitas as a way to save money and make fajitas more budget friendly. However, with the price of ground beef being so high lately, they are not quite as budget friendly as they used to be.
Ground beef is still one of the cheaper cuts of beef though. All beef and meat in general has gone up in price, so when you put it all in perspective, I think it is still pretty budget friendly. Since fajitas have a lot of flavor in them you could also easily use another cheaper ground meat in place of the ground beef.
I like ground beef fajitas because I almost always have some ground beef in the freezer. Sometimes I have other cuts of beef or chicken, but ground beef in a staple I always try to keep on hand.
I also love to freeze green peppers when I find them on sale or have a surplus from the garden, so these fajitas are easy for me to make anytime.
This recipe is one I have tweaked a bit to get just how we like it. It is the basic flavors of fajitas, but using ground beef for the meat. You can easily change this up to your tastes by adding more or less chili powder, etc.
Ground beef fajitas are quick, easy, and delicious! I love meals like that.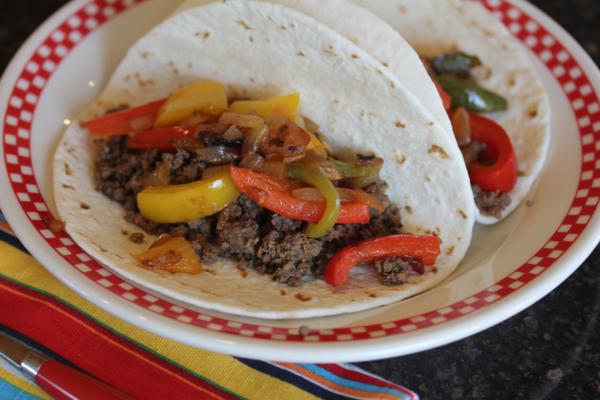 Yield: 6 servings
Ground Beef Fajitas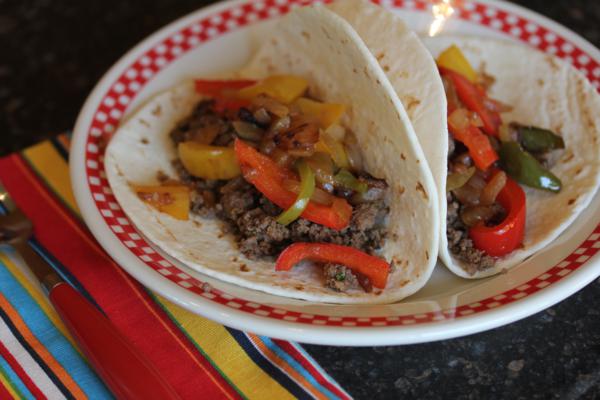 Change up fajita night with ground beef fajitas.
Ingredients
2 pounds lean ground beef
2 tablespoons oil
1 tablespoon lime juice
2 teaspoons chili powder
1 teaspoon dry mustard
1 teaspoon dried oregano
1 teaspoon salt
1 teaspoon ground cumin
1/2 teaspoon coriander
2-3 green, yellow, orange, bell peppers sliced
1 onion, peeled and sliced
tortillas for serving
Instructions
Heat oil in a pan or cast iron skillet. Once pan is hot add onion and cook over medium heat until tender and slightly browned.This takes about 5 minutes.
Add peppers and cook 3-4 minutes or until slightly tender.
Remove peppers and onions from the pan and set aside.
In the same skillet cook beef until browned and done. Drain off any fat.
Add lime juice and spices to the meat and stir well.
Add pepper and onion mixture to the beef and cook for 2-3 minutes or just enough to combine flavors well.
Serve on tortillas.
Nutrition Information:
Yield:
6 servings
Serving Size:
1
Amount Per Serving:
Calories:

469
Total Fat:

24g
Saturated Fat:

8g
Trans Fat:

1g
Unsaturated Fat:

13g
Cholesterol:

135mg
Sodium:

551mg
Carbohydrates:

17g
Fiber:

3g
Sugar:

7g
Protein:

45g