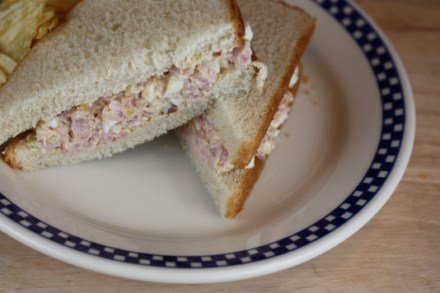 If you have read my site for long, than you probably know that I am blessed to have a freezer full of ham.
We raise hogs and I love having a freezer full of pork, but some years our hogs have been quite large and we have an abundance of ham, which means we often get tired of it.
One year we had four- eighteen pound hams from one hog. That is a whole lot of ham.
But I have found that if I get creative in the ways that I serve ham, and add in lots of variety, we do not mind eating that much of it. In fact, if I am creative in how I use it, we really enjoy it.
Now I know that many, okay so probably none of you, have lots of extra ham like I do, but it is the time of year when hams go on sale and many of you will be buying and eating it over the next month or so.
So, today I have one of my family's favorite ways to use up leftover ham. And this recipe only calls for a few cups of ham, so it is perfect for those last few bits and scraps that you may have after cooking a large ham.
What I love about ham salad sandwiches is not only how easy they are to make, but the fact that I can make up a large batch and we have the perfect lunch for several days without very much work.
What is your favorite way to fix ham sandwiches? I would love some new ideas. 
Ham Salad Sandwich Recipe
3 cups of ham (or so)
2 tablespoons relish
2 hard boiled eggs, peeled and chopped
1/4 cup mayonnaise
1 teaspoon mustard (We like Dijon, but really any kinds works.)
Mix all ingredients together in a food processor and pulse a few times to chop and mix all together. Pulse/mix until you get the texture you desire. We like ours pretty chopped up.
Serve on bread as sandwiches.