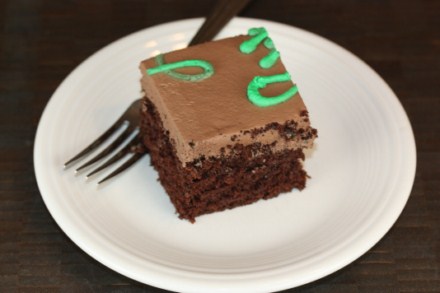 My son recently had a birthday. He is my gluten eating and gluten loving son, who does not deal with any food allergies or issues.
He puts up with a lot, and sacrifices often, for those in the house that deal with food issues. And I have to say he is great about it. I am so proud of his attitude and willingness to put our food needs before his food wants.
So, for his birthday we gave him a special treat. My daughters and I decided that for one day, my son should be able to eat his favorite foods, pizza and chocolate cake. And we are not talking gluten free pizza and gluten free cake, we wanted him to have and enjoy the real thing.
We decided take out pizza at my in-laws would work perfectly and I bought a chocolate cake with chocolate frosting from Sam's Club for him.
Yes, those are both gluten filled foods and foods that my girls and I cannot eat, but it was my son's day, so we simply ate something else and let him enjoy his birthday meal. We felt it was the least we could do for all the sacrifices he makes for us.
For us this worked. I was able to give him his favorite gluten filled foods for his birthday and taking the "mess" elsewhere, made it much easier on those of us that deal with the food issues. I was able to take food the girls and I could have and we all ended up having a very nice day.
Birthdays and food allergies and issues can be very challenging and I would love to hear how you deal it. Do you have any tips to share?