Last week I got to spend a whole afternoon shopping by myself. If you are a mom like me, than I am sure you understand why shopping all by yourself is a treat.
I was mainly grocery shopping, but I did have a few other errands to do. One of which was to stop by the book store to look for something.
Well, I will be the first to admit that book stores can be dangerous for me. I love books and we have many of them, so I can spend hours wondering the bookstore. Often I do not even buy anything, I just like to browse, but there are times where one or more books catch my attention and I find them worthy to add to our collection.
While I was browsing the bookstore last week, I wandered over to the cookbook section. I am sure that does not surprise anyone, but when I look at the cookbook section at bookstores, I look for the unusual books. I usually know about the most recent books by famous cooks and authors, so I like to dig deeper and find something that I may not have ever seen before.
That is just what I did last week and I found a wonderful book.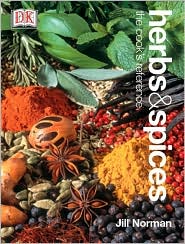 Herbs & Spices: The Cook's Reference
is not a cookbook, but it is a book all about food. It is full of useful information and odd facts about herbs and spices.
We love DK books and have many of their educational books for our kids, but I did not know they had books on food also.
I have spent a lot of time reading this book over the last few days and it has some really fascinating facts about herbs and spices and what are the best ways to use them.
This book is going to be a very useful tool in my kitchen. I love adding books like this to my collection because they are not just cookbooks. They are books full of information that keep me learning and keep cooking fun and interesting for me.
And yes I know I might be a bit odd for finding a book like this so fascinating.
Do you have a favorite reference or food fact book like this?