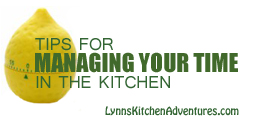 I really did not mean to take three posts for menu planning, but after covering why I menu plan, and making your plan work for you, I realized that I still had not covered how exactly I plan.
When I sit down to menu plan, I usually plan out seven to ten days worth of meals at a time. I know many people base their plan mainly on sales available that week. That is great if it works for you, but that does not really work for me. I will post more about that in the next few weeks when I talk about grocery shopping and how I shop.
Instead of planning around only what is on sale, I plan my meals based on my schedule and how busy I am.
I also base them on what I have, what I feel like cooking and eating, and what I need to use up. It takes me just a few minutes to look over everything and evaluate what will work for me that week.
Basing my menu plan on my schedule is the main thing that saves me time. If I know that I am going to be gone during the day, than I plan a quick and easy or crock pot meal. If I have more time, I plan meals that take more time to cook.
I like to try new recipes and vary what I cook. I like searching for recipes to make, so you will usually find a mix of family favorites and new recipes on my plan.
I know many people find it helpful to have a list of meals that they reference. This may be family favorites or just quick and easy meals. I usually have a list of recipes that I want to try that I can look at if I need ideas. Having a list to refer to saves a lot of time when planning.
I also have friends that have certain nights that they cook certain things. For example Monday might be Mexican, Tuesday pasta night, Wednesday pizza night, etc. Having a plan like this makes menu planning a lot easier for many people because it takes a lot less time and thought to plan this way. It also allows some variety because you can vary what type of Mexican meal you serve.
Do you do any of these things when you menu plan?